Nagpur: Eid Milad-un-Nabi, the birthday of Prophet Muhammad, is being celebrated in city by Muslim brethren and other communities with great fervour and gaiety.
People across the society extended their greetings to all people especially to Muslim brothers and sisters on the occasion. Kids, men and women, attired in their traditional best, prayed for harmony, brotherhood and peace all around. The most important aspect of the day is to focus on the teachings of Prophet Mohammed.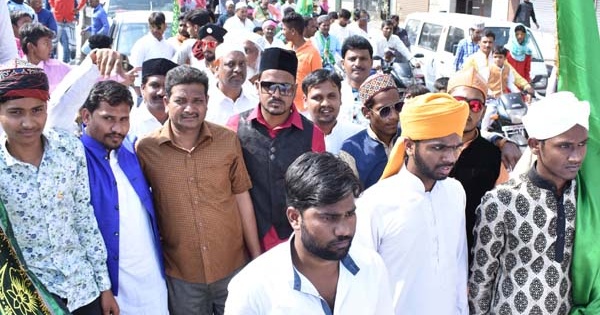 Families gathered together and prepared a feast, which is then served to the guests and is also meant to be donated to the poor. Donating to charity is also considered an important aspect of the Eid Milad un Nabi.
The mosques and houses were decorated and illuminated at night. People also engaged in singing salutations and songs in the praise of Prophet Mohammed. Different kinds of foods and dishes are prepared during Eid Milad un Nabi, among which desserts have a special importance.
Police maintain tight security
The tight security was deployed by City police helped in peaceful celebration of Eid Milad-un-Nabi on Wednesday.
The news of communal riots were foreseen following a tiff between two communities a day before Eid Milad-un-Nabi, was circulated through social media, on which Nagpur Police reacted immediately and deployed security forces which result in pleasant celebration of Eid Milad-un-Nabi.
Commissioner of Police Bhushan Kumar Upadhyaya is very familiar with the city, he himself took charge of inspecting all the security arrangements and thus people are pleased and cops are drawing tremendous positive feedbacks with the security arrangements on Eid.
The Nagpur Police had always urged citizens that they should be cautions and not believe in any rumors without any conformation. If citizens receive any kind of confidential information, they should immediately approach police.
By Ravikant Kamble
Pic By Sandeep Gurghate