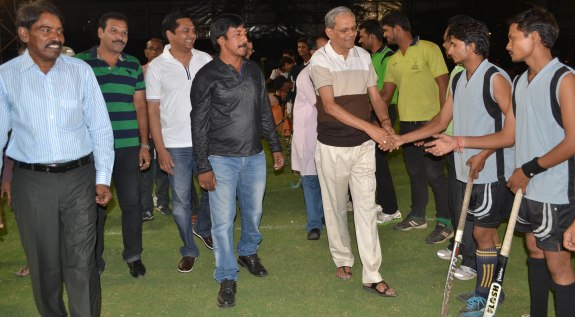 Nagpur News:
The Eagle Sporting Club started their campaign on a winning note when they defeated Kamptee United by 1 goal in the Anil Fulsunge Memorial 6-A Side Hockey Tournament. The main architects of Eagle victory were Rakesh Khatarkar and Shakeel Sheikh who scored 1 goal each in the inaugural match of the tournament. The tournament is being organised by Vidarbha Hockey Association (VHA) on its ground on near Bole Petrol Pump on Amravati Road.
Earlier, Advocate Sharma inaugurated the tournament. VHA Secretary Vinod Gavai, Joint Secretary Bhasker Naidu, Satish Fulsunge, Devendra dasture, Rajeev Zodave, Ravi Jame and others were present on the occasion.
The first match of the tournament, based on sudden-death formula, was exciting as both the teams displayed their skills to the hilt and made it tough for scoring goals against each other. However, Eagle Sporting Club succeeded in hitting the first goal on seventh minute of the game. Rakesh Khatarkar struck the powerful goal through penalty shot. Not to be left behind, Shakeel Sheikh hit the ball into Kamptee goalpost on 14th minute giving Eagle a 2-0 lead. Rupesh Mate scored a goal through penalty shot the Kamptee boy received due to a folly on the part of Eagle boys on 17th minute. Thus, finally the victory margin for Eagle stood at 2-0.