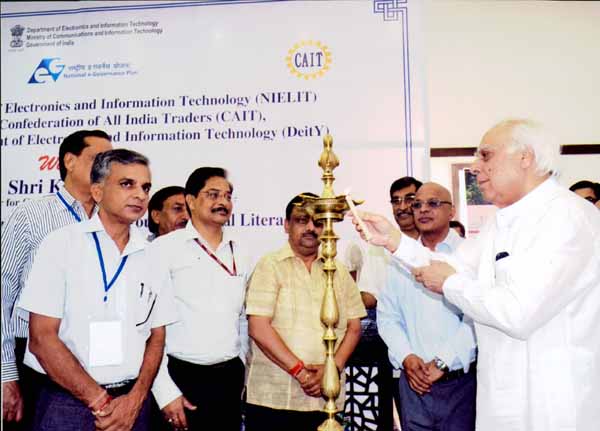 Union IT and Telecom Minister Mr. Kapil Sibal stressed the need of digital literacy among traders of the Country in order to upgrade and modernize the retail trade of India. While inaugurating an Orientation Workshop at New Delhi jointly organized by Ministry of IT & Communication and Confederation of All India Traders (CAIT), Mr. Sibal lauded the contribution of trading community in national economy but equally said that with the change in business scenario not only in India but over the globe, the domestic trade needs a face lift and as such e governance among traders is the need of the hour. He announced that participant of Ministry of IT with CAIT shall be named as "E – Vyapar".
Secretary IT Mr. J.Satyanarayanan, Mr. Rajiv Gauba, Additional Secretary, Dr.Rajendra Kumar, Joint Secretary in the Ministry, Dr.Ashwini Kumar Sharma, Managing Director, National Institute of Electronics and Information Technology, Dr. Rajiv Arora, Director, NeGD , Delhi VAT Commissioner Mr. Prashant Goyal and other senior officials were also present at the Workshop. CAIT Secretary General Mr. Praveen Khandelwal, its Delhi State President Ramesh Khanna, State General Secretary Vijay Pal and Rajesh Goyal, Chairman, E Governance Committee of CAIT were also present at the Workshop.
Ministry of IT & Communication and CAIT are contemplating a joint project for encouragement of digital literacy and adoption of IT skills among business community of the Country. The project in association with CAIT is being executed by National Institute of Electronics & Information Technology and is funded by Department of Electronics & Information Technology. The workshop is first step to spread awareness among the traders and series of such workshops will be held in different states .
While addressing the traders, Mr. Sibal said that adoption of e governance among traders of the Country will not only improve business prospects but will also have an empowering effect on the common man who is the end consumer. He further said that e-Governance promotes transparency and provides smooth conduct of business operations and also have higher government accountability. There is a need to create an enabling eco system among the domestic trade of India for its sustainable development in a holistic and integrated manner.
Dr. Ashwini Kumar Sharma, Managing Director, NIELIT, said that very soon such Workshops shall be organized in State Capitals and in second phase it will be carried in different cities & villages across the country in association with Trade Federation & Associations.
CAIT Secretary General Mr. Praveen Khandelwal said that in the wake of rapidly changing government policies and transforming the entire system on e-Governance, there is an immediate need to encourage traders to adopt computerization and IT skills coupled with modern business techniques to keep pace with the ongoing development. He hoped that the partnership of CAIT and Ministry of IT will prove to be a milestone in empowering the traders of the Country with digital literacy which will facilitate retail trade management, compliance of Tax and other governing laws, marketing etc. He cautioned that this transformation should be executed in phased manner keeping into consideration the diversity of business system in India.
The Indian retail accounts for around 15% of the GDP with more than 5 crore small shopkeepers and more than 22 crores people dependent upon them throughout the country excluding low cost kiosks, push cart and foot path vendors. India has the highest density of retail outlets in the world – for 1000 persons there are 15 retail outlets in India. The overall size of retail market in India at present is estimated at Rs. 20 lakh crores. About 5% of the retail trade is in the organized sector and the balance 95% is self-organized. The country's retail trade is expanding 15% every year with an addition of 25 million middle class consumers.