Duped customers get no response from Grace Toyota; Accused is in Goa, says PI Bhatkar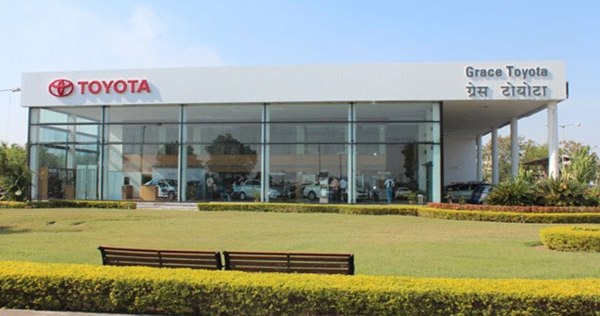 Nagpur News.
Large number of customers who were duped by the sales officer of Grace Toyota, authorized dealer of Toyota vehicles located on Kamptee road, have been running from pillar to post to get their money back which they have paid to the concerned officer against booking their vehicles. Neither the showroom owner is showing any interest towards refunding the amount nor do the police seem to be active on this front. The latest update that came from the cops was that the accused sales officer Yeshwant Mangle has been traced to Goa and soon a police team will be dispatched to Goa.
Mangle had collected a total of about Rs 14 lakh from various customers including those from Gondia and Chandrapur but did not deposit the money, as the showroom owner claimed. Later when the customers reached the showroom on the delivery date, they came to know that there was no scheduled delivery on that day or any other day to the concerned customers. All of them then called Mangle at his cell number. First Mangle assured that he would soon reach showroom and then immediately switched off his mobile. When the customers approached the showroom owner, they were told that the amount that they deposited with Mangle did not reflect in their account. Both the showroom owner and the customers then lodged the complaint against Mangle who is still beyond police reach.
Zaripatka police inspector PM Bhatkar told Nagpur Today, "We have traced Mangle's mobile location to Goa. Now we are planning to dispatch the police team to Goa." He said, "No doubt the money is with him as we have ascertained this from the information gathered from his girlfriend and also his other friends some of whom were recently taken to Mumbai where Mangle paid for the hotel and other expenses. Even his girlfriend often quizzed him regarding the source of the money he was splurging but he kept saying her not to bother about that.  He had also promised her girlfriend that they would soon get married," informed Bhatkar.
Bhatkar said that the FIR has been registered under section 420 and 406. He however said that the customers could have been extra cautious while giving the payment. "Instead of making payments at the account section the customers handed over the money to Mangle who only gave him the booking form mentioning the amount on it. They should have understood the tactics of Mangle at that moment only."
When asked whether the police action will also be initiated against the showroom owner, Bhatkar said, "We have made showroom owner as accused no.1 and Mangle as accused no. 2 in our FIR and further action would be initiated accordingly."
When contacted, NS Vikhu, General Manager at Grace Toyota told Nagpur Today, "Since the matter is under police consideration now, it would be better to let police initiate action. It would be fine to contact at Zaripatka police station for more details in this regard." Earlier when the incident happened the Grace Toyota said the persons who paid money to Mangle, were supposed to contact the office of the dealer before paying large amounts to him for booking of vehicles. At that time the concerned representative at Grace Toyota had accepted that Mangle was working on board their showroom and was on pay roll.
However,  Pratap Bharadwaj, one of the customers who had fallen prey to Mangle's trick was not willing to buy showroom's theory. "They are saying us that they cannot do anything unless Mangle is caught. This is too unfair as Mangle had collected payment on behalf of the showroom owner only," Bharadwaj told Nagpur Today.
Bharadwaj, a railway employee at Gondia, had paid Rs 3 lakh in cash to Mangle. "The showroom people had conducted a camp in Gondia some days back. Mangle was also there in that camp. He informed us that the showroom is offering huge discounts on vehicle. We looked forward to it and later reached Nagpur at their showroom where he showed us the vehicle and explained its features. Later I paid Rs 2 lakh in cash on November 20 and again Rs 1.5 lakh on December 2 as he detailed us the total amount for Toyota Liva would stand at Rs 4.5 lakh. He also provided us booking form on which the amount was mentioned. When we asked for invoice, Mangle said that it would take 2-3 days to prepare invoice and the booking form was considered as proof of payment. But now the showroom owner is denying us our dues, nor he was willing to deliver the vehicles."
Besides Bharadwaj, Dr Sagar Chiddarwar from Nagpur, Dr Shibu Acharya from Gondia paid Rs 5 lakh to Mangle, Mehni Walni, Gondia paid Rs 1 lakh, Ahmed (Gondia) and Dr Shirish Choudhary from Chandrapur paid Rs 2.75 lakh to Mangle at the showroom premise itself against booking of vehicles. There are many more people who were cheated in the similar manner. The amount is reportedly summed at Rs 14 lakh.
All of them were given the same delivery dates when all met together and lodged FIR after the showroom owner refused to refund their amount.