Nagpur News : President of Nag-Vidarbha Chamber of Commerce, Dipen Agrawal said here on Thursday that Local Body Tax (LBT) was imposed on Nagpur without conducting a public hearing- though there is a mandatory provision in LBT that unless public hearing is held on LBT, it would not be implemented.
Dipen Agrawal who was talking to mediapersons on Thursday in a Meet the Press programme organised by Nagpur Union of Working Journalists further said that objections and suggestions mooted by NVCC were also ignored by the government. When objections and suggestions were invited on LBT in 2011, Nagpur Municipal Corporation was governed by CNC Act while LBT was introduced under MMC Act in 2013. Hence government had no locus standi to introduce this draconian tax, Dipen Agrawal said.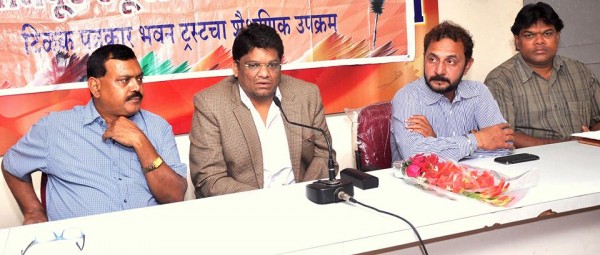 "LBT would create revenue losses in 24 civic bodies out of 25 due to which administration would not be able to carry out civic works and even pay salary of its employees", Dipen Agrawal further said.
"As there is a revenue shortfall, civic authorities would resort to raids and create a reign of terror", Dipen Agrawal feared.
Though the traders called on the chief minister during anti-LBT agitation last year, he did not consider their demands of alternate sources of revenue. Even Subodhkumar Committee which comprised tax consultant Dilip Dixit, MEDC chairman, Chandrashekhar Prabhu and Subodh Kumar himself, who was a BMC commissioner was not implemented by the State government, he further said.
Apart from LBT, State government is also collecting revenue through VAT- the rate of which was hiked by the State government from 4 per cent to 5 per cent- and local GST is also on the anvil. This has given rise to multiple taxation system in Maharashtra- unlike any other state in the country.
If local GST is introduced, there would be 47 per cent tax on goods and 53 per cent tax on services. As a result, traders in Maharashtra would pay highest taxes and the burden would ultimately boil down to common citizens. Hence NVCC appeals to the State government to rescind the tax in the interest of citizens, development and tax payers, Dipen Agrawal further said.
NVCC has always taken a stand and appealed to the traders that as long as alternate sources of revenue are not found out traders should remit LBT. " Traders should not treat it as tax; but their contribution towards development", he quipped.
Though government has addressed certain issues like seeking prior permission of principal secretary before carrying out raids, the permission was subsequently diluted and powers to execute raids were handed down to deputy municipal commissioner, he informed.
Elaborating the causes of recent raids on traders establishments, he said the raids were a result of state government's own contradictions in executing LBT.
At the time of implementaion of LBT, traders were told only to register their establishments for LBT without giving a detailed picture of their businesses activities. However, subsequently, the same traders who gave a detailed account of their businesses, were charged with hiding information from the authorities and raids were carried out on their establishments, he further said.
With the current form of LBT, neither traders nor NMC which is collecting LBT is happy, he observed.