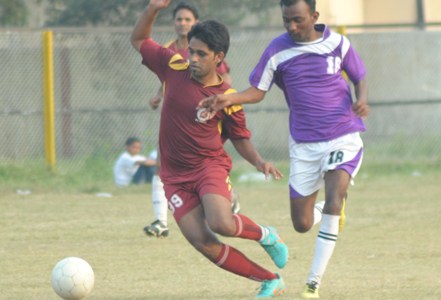 Nagpur Today.
Aziz Qureshi slammed field goal as DSACRLY thrashed Nagpur City 2-0 in the super six stage of Meghe Group sponsored Super Division Football Tournament organised by Nagpur District Football Association at SECR's Motibagh ground on November 6, 2013.
Earlier in the first half, DSACRLY were leading by 1-0. In the 46th minute Aziz Qureshi put them ahead but DSACRLY won the game on penalty kick by Nasir Jamal in the 57th minute against City Police.
During the proceedings, Yellow cards were shown to Adil Ansari in the 90+3 min and Mohd. Junaid in the 90+3 min from DSACRLY wherein Ganesh Gupta in the 37th min, Arjun Yadav in the 42nd min and Avinash Nannare in the 57th min from City Police. Also the red card is shown to Afaque Ansari in the 90+3 min by a referee to signify that he has been sent off.
In first division tournament at Police Line Takli ground Taj Sporting defeated Young Ansar 2-0. Kalimul Haque earned a lone goal in the 81st min wherein Sanjiv Kanojiya struck another goal in the 89th min.
In Thursday's fixtures:
Meghe Super Division
(Super Six match)
Match : NFC  v/s Young Iqbal  2.30pm on Motibagh ground.
Meghe First Division
Nagpur City Club v/s Central Railway Institute 8.30 am on Police Ground.
Please note: Jawahar Lalji Darda Memorial 2nd Division NDFA League 2013-14 will be started from tomorrow on Central Railway Institute ground, Ajni.
1st match: Arman Sporting v/s Birsa Munda Club at 1.00pm on Ajni Ground.
2nd match: Hill Top XI v/s St. Martin Nagar at 3.00pm on Ajni Ground