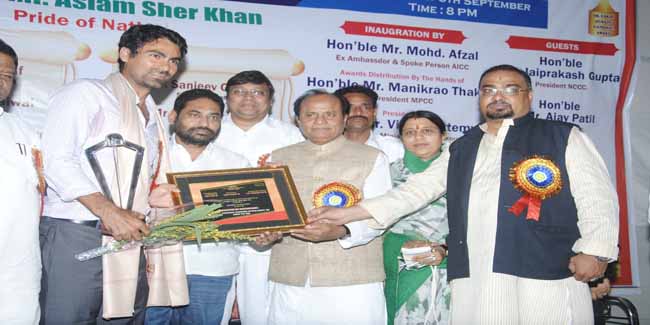 Nagpur News: Dr Zakir Hussain Vichar Manch organized a programme for distribution of 3rd Annual Award at Central Nagpur-based Haj House. The programme began with the citation of Holy Quran in the presence of Spokesman of All India Congress Committee Mim Afzal, EGS Minister Nitin Raut, former Union Minister Aslam Sher Khan, famous cricketer Mohd Kaif, Jaiprakash Gupta, Ajay Patil, Abha Pande and Programme Organiser and President of Dr Zakir Hussain Vichar Manch Haider Ali Dosani lighted the traditional lamp to mark the beginning of the function.
The guests were welcomed by Mohd Hanif alias Babubhai, Prakash Goyal, Firoz Noori, Rafiq Bakeriwala and others. The President of the Dr Zakir Hussain Vichar Manch Haider Ali Dosani in his inaugural speech threw light on Manch's activities and the aim of organizing the programme.
After Dosani's speech, Jaiprakash Gupta, Abha Pande and Ajay Patil conferred the Service of Social Work Award on Javed Ansari, Promotion of Language Award on Saroj Vyas, Education Promotion Award on Fazal-e-Mobin Siddique respectively. Present on the dais on this occasion include Jaiprakash Parekh, Adv Khalique Anzar, Jaffer Mohd Khan and Adv Haneef Hussain.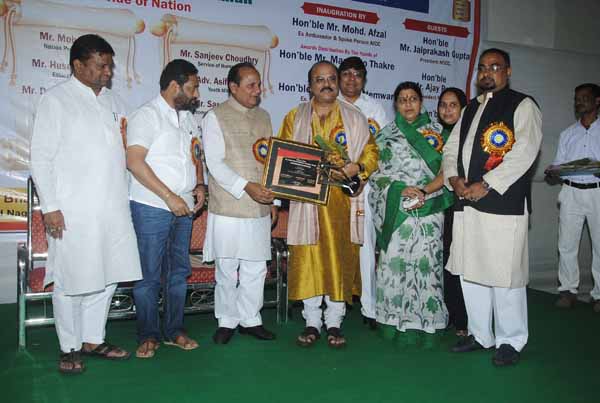 Dr Sanjeev Choudhari was conferred with Service of Humanity Award for his services to the welfare of humanity, Adv Asif Shaukat Qureshi was bestowed with Youth Ideal Award, Ujma Naheed, Mumbai  was given Promotion of Child ans Women Award, Bashar Nawaz, Aurangabad, was conferred with Promotion of Literature Award.