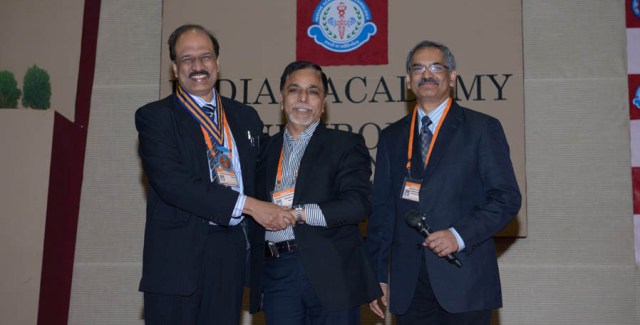 Nagpur News.
Renowned Neurologist of Nagpur Dr Chandrashekhar Meshram has been designated as the President of Indian Academy of Neurology during its Annual Conference held recently at Indore. He is the first private practitioner in Neurology and first "Maharashtrian" to assume office of the President of this prestigious national organization.
His tenure as National President will be for one year and under his chairmanship the Annual Conference of Indian Academy of Neurology will be held at Chandigarh from 6 th to 9 th Nov 2014, where he will deliver the Presidential Orartion. Several well known international speakers  including President, World Federation of Neurology have accepted the invitation to come as faculty for this conference. During the year he plans to do nationwide patient education programs and CMEs  for  Physicians which will help in better patient care.
Through Nagpur Neuro Society he plans to do the epidemiological study of Neurological problems in and around Nagpur so that measures can be suggested for prevention of these disorders. Dr. Meshram has expressed his gratitude towards members of Nagpur Neuro Society and medical fraternity in central India for the support and involvement in various academic activities.
Dr Meshram is Member of Constitution Committee of World federation of Neurology, the highest academic body in the field of Neurology. He is the first neurologist in the country who represented India, four  times as national delegate for Council of Delegates Meeting of The World Federation of Neurology at Bangkok, Marrakesh, Stockholm and Vienna. He is Honorary Neurologist to the Governor of Maharashtra.
He is Principal Investigator for many international research projects and his centre is number one in the world in four clinical trials. Recently USFDA selected his centre as  the only one  in the country in field of Neurology for inspection and they highly appreciated the research work done by him.
Dr Meshram has served as Secretary of Indian Academy of Neurology for  three years and has been conducting CME program in collaboration with World Federation of Neurology for last eight years. He is Past President of Maharashtra Association of Neurology and Academy of Medical Sciences. He was also invited as faculty   in Vietnam, Korea and Austria . He is trustee of  Maharogi Sewa Samiti, Anandwan and is  involved in various social activities and patient education programs.