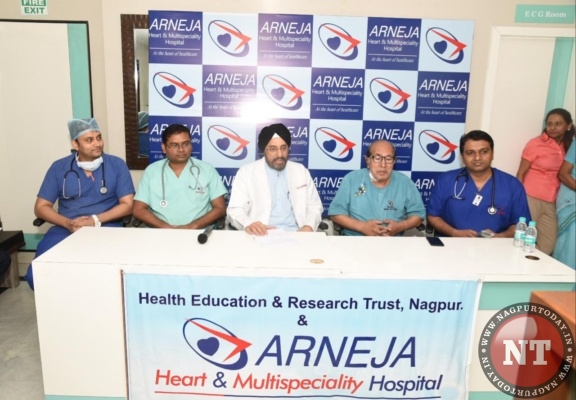 Nagpur: In another first to his credit, Dr. Jaspal Arneja , Senior Interventional Cardiologist at Arneja Heart and Multi-specialty Hospital, Nagpur, has become the first cardiologist in Central India to conduct a non-surgical valve replacement.
A team of doctors performed this exclusive Transcatheter Aortic Valve Replacement (TAVR) surgery. Dr. Arneja also did the stenting of a narrowed vessel of the same patient. The procedure lasted 1 ½ hours and was successful one. The patient has made a complete recovery and has become mobile from the first day after the procedure.
Addressing a press conference here just after a day of the procedure with the patient seated by his side, Dr. Arneja said, "Percutaneous aortic valve replacement is a new treatment option for patients of critical aortic stenosis, in whom surgical risk is high as it carries increased morbidity. This is the first case of non-surgical aortic valve replacement in this region and comes as a boon to patients of Central India. Elderly patients suffering from this critical disease would benefit greatly from this new technology. Valve replacement is done from the groin and the patient can become completely active the next day after the procedure. This is a completely non-surgical technique and the groin site is repaired non-surgically immediately after the procedure," Dr Arneja said.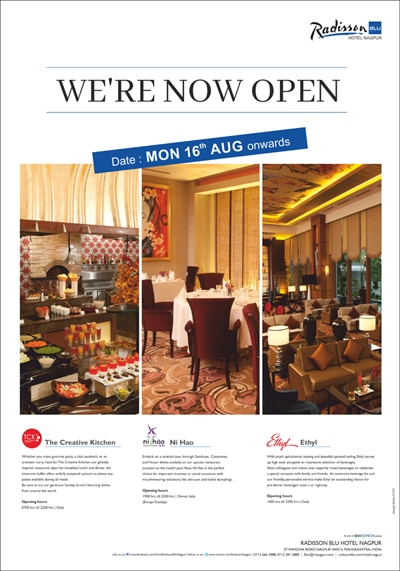 The earlier surgical aortic valve replacement is a supra major surgery, opening the chest, putting the patient on a heart lung machine after stopping the heart and replacing the valve and required about 10 days of hospitalization. In this new technique done at Arneja Heart ospital the entire procedure is done under local anesthesia with conscious sedation just with a needle puncture in the groin like angioplasty. It requires only two to three days of hospitalization. The patient received MYVAL, the only indigenous Indian made valve from MerilLifesciences which has just received DCGI approval for use in the country. This procedure was live transmitted to MERIL center of excellence VAPI, Surat and interacted with leading cardiologist Dr. Manish Parikh(USA), Dr. Ramesh Daggubatti(USA), Dr. ArvindNanjundappa(USA), Dr. Martin Studencan(Slovakia)and other leading cardiologist all over the world witnessed the procedure and provided there the valuable feedback.
Dr. Arneja's patient was Krishna Govind Pahune, a 83 year old man from Hinganghat who was having symptoms of severe breathlessness on minimal day to day activities. On investigating, the 83-year-old Male was found to have critical narrowing of one of the left-sided valves of the heart – the aortic valve, along with a critical narrowing of the artery of the heart.
Pahune was seen by cardiac surgeons and was found to be a very high risk for surgical aortic valve replacement. After detailed discussion, the Heart Team of Arneja Heart and Multispeciality Hospital decided that non-surgical transcutaneous aortic valve replacement as the best treatment option to her family.
"Narrowing of the aortic valve is a life-threatening disease and normally requires an open heart surgery with valve replacement. Epidemiological studies have determined that more than one in eight people aged 75 and older have narrowing of the left-sided valves of the heart, which is known as aortic stenosis. If not treated emergently, this may lead to severe disability and sudden death", Dr Arneja stated.
He said that elderly patients suffering from the disease should be evaluated by their cardiologist to review their suitability for this procedure. Symptomatic patients with severe aortic stenosis (AS) must be referred to a Heart Team for valve replacement evaluation.
The Heart Team of Arneja would evaluate such patients and individualized decisions would be taken to replace the aortic valve non-surgically. The risk of this procedure is comprehensively less than open heart surgery in elderly individuals.
Krishna Govind Pahune was present during the press conference and interacted with members of the media and shared his experience of undergoing the procedure and this was within 24 hours of procedure.
The team of doctors included Cardiologists, Dr. Pravin Chandra and Dr. Nagendra Chauhan from Medanta Delhi, Dr. Vivek Mandurke and Dr Amar Amale, Cardiothoracic surgeon Dr. Saurabh Varshney and Dr. Avinash Sharma, Cardiac Anaesthetist Dr. Abhishek Wadaskar and Dr. Neeraj Prasad, Cath lab technician Naresh Aundhekar and his team as well as Seema Bagde and her nursing team and research coordinator Anuradha Sambre.
Meanwhile, Dr.Arneja informed that, "We at Arneja Heart are proud to say that we are pioneers in Cardiac Care in Central India. The many firsts that we gave the city are, Intravascular Ultrasound (IVUS), Rotablator System, Left Main angioplasty, Chronic Total Occlusion Percutaneous Coronary Intervention (CTO PCI), Fractional Flow Reserve (FFR), and now Transcatheter aortic valve implantation (TAVI). Elderly patients with valve narrowing can benefit from this new non-surgical technique.''
– By Farhan Kazi & Rajesh Bansod