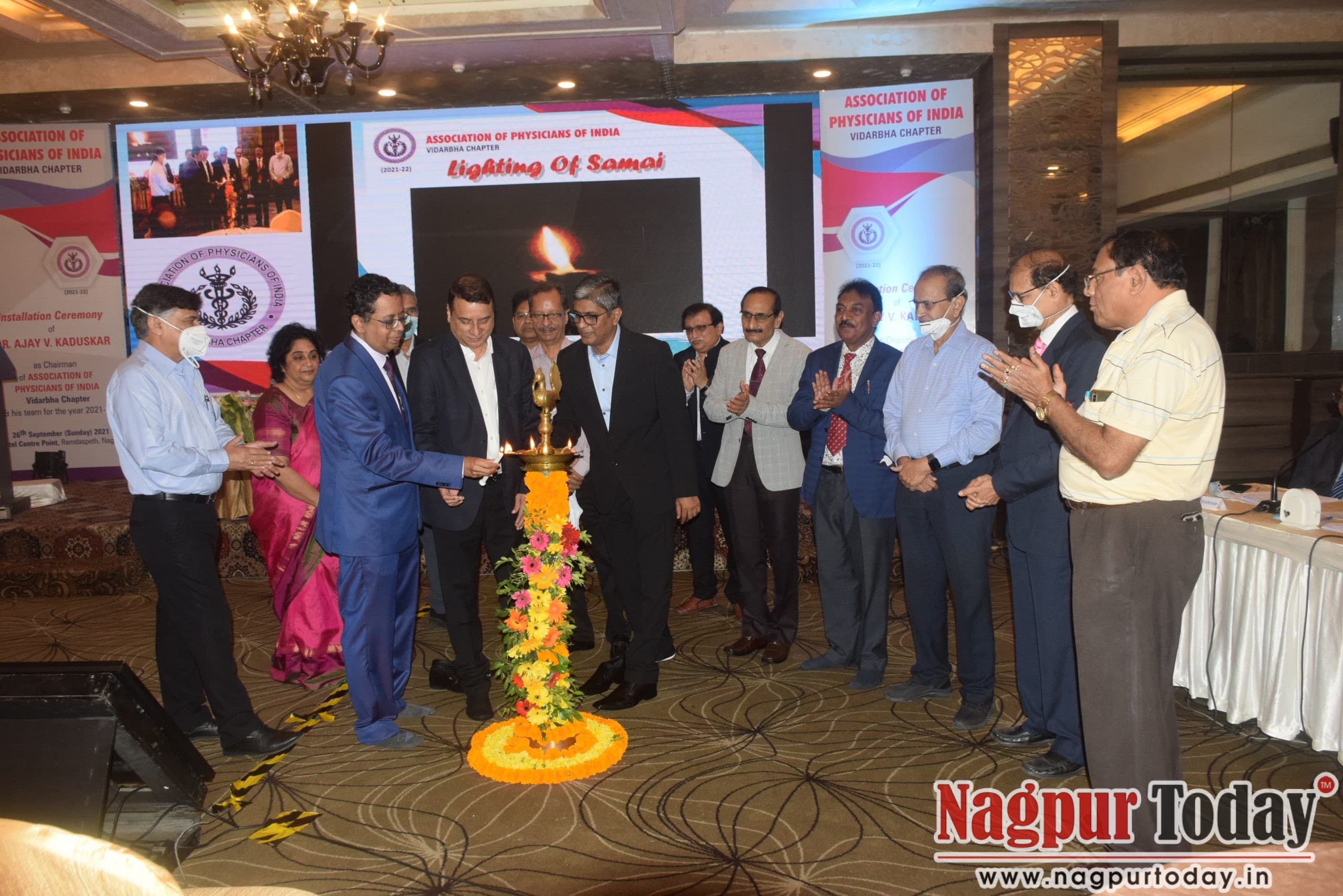 Nagpur: The new team of Association of Physicians of India Vidarbha Chapter (2021_22) with Dr. Ajay Kaduskar, Consultant Diabetologist Nagpur as Chairman and Dr. Sandeep Kharkar as Honorary Secretary was held at Hotel Centre Point Ramdaspeth Nagpur on Sunday 26th September 2021.
Dr. Mangesh Tiwaskar, Hon. General Secretary, API and Consultant Diabetologist, Mumbai was the Chief Guest while Dr. Suhas Erande, Consultant Diabetologist, Pune, was the Guest of Honour. The other members who were installed are as follows:
Imm. Past President Dr. Prafulla B. Kadu, Imm. Past Secretary Dr. Dipti Chand Treasurer Dr. Nitin Wadaskar, Vice President: Dr. Ajay Daphale and, Dr. Aamol Meshram Joint Secretaries: Dr. Jayaraj Korpe and Dr. Abhishek Pandey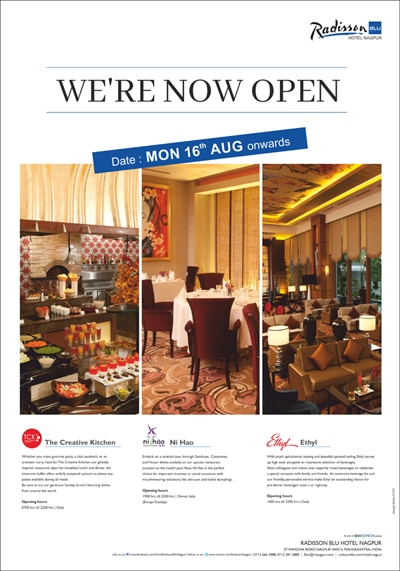 Executive Members: -Dr. Ajay Bulle, Dr. Avinash Pophali, Dr. Deepak Agarwal, Dr. Jayesh Timane, Dr. Madhuri Hole, Dr. Milind Chandurkar, Dr. Mukund Ganeriwal, Dr. Prashant Vaichal, Dr. Prashant Govardhan, Dr. Praveen Pant, Dr. P. P. Joshi, Dr. Rohankumar Kalmegh, Dr. Suhas Kanfade, Dr. Sameer Chaudhary, Dr. Tanuja Manohar, Dr. Vandana Adamane, & Dr. Vivek Deshpande.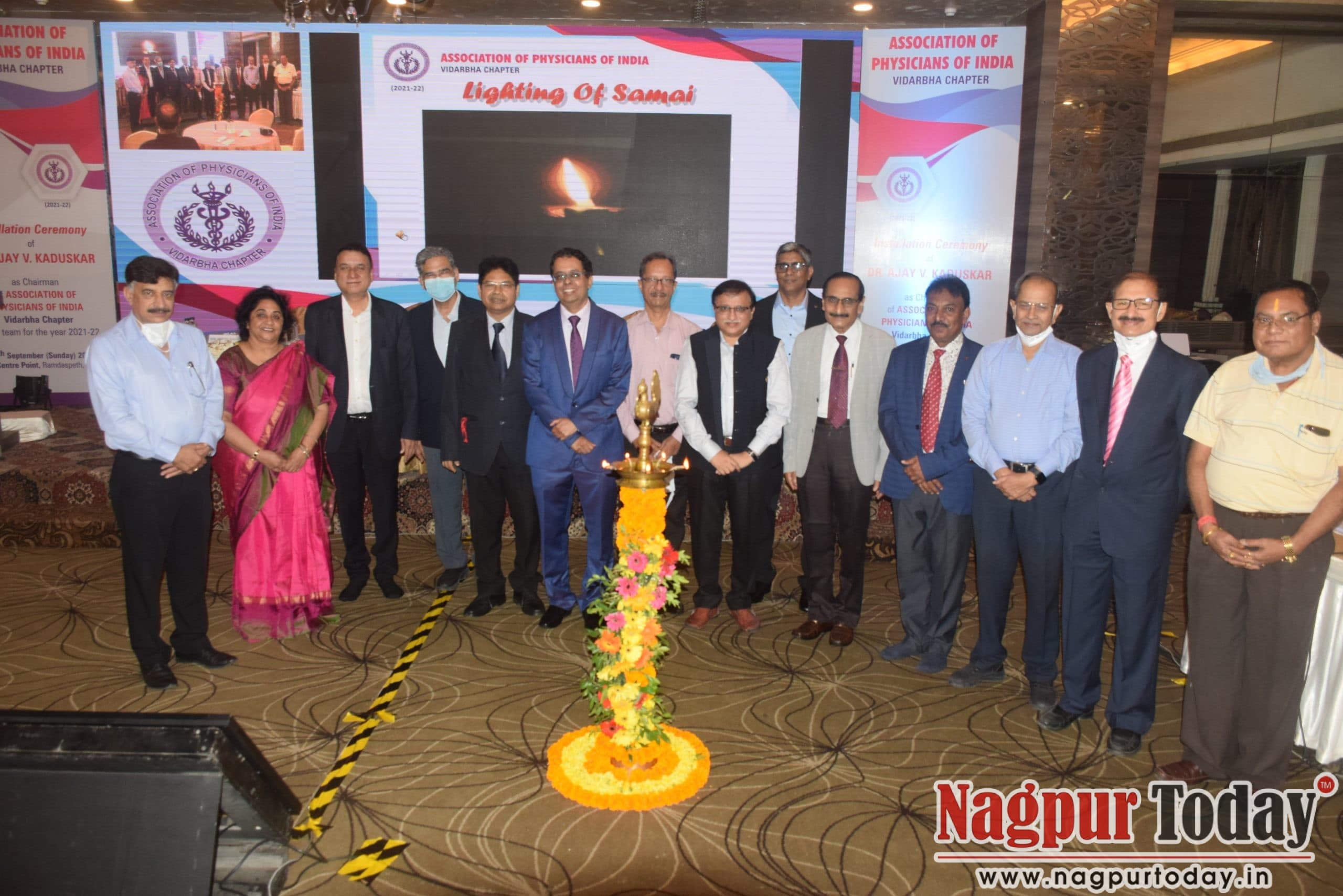 District Representatives: Akola Dr. Shrish Dehankar, Amravati Dr. Anil Rohankar, Bhandara Dr. Santosh Kochhar, Buldhana Dr. Prashant Kawadkar, Chandrapur Dr. Narendra Kolte, Gadchiroli Dr. Kishore Jogewar, Gondia Dr. Lokchand Bajaj, Washim Dr. Shardul Dongaonkar, Yavatmal Dr. Narayan Puranik
Apart from this, 12 heads of department of medicine of all medical colleges in Vidarbha and medicine department of AIIMS, Nagpur are in the executive committee.
There was a continuing medical education (CME) programme after the inauguration
Incumbent President Dr. Prafulla Kadu made welcome speech and Outgoing Secretary Dr. Dipti Chand presented Annual report. Those doctors who lost life, mainly in Vidarbha in Covid pandemic were given "Shraddhanjali" by standing in silence for couple of minutes. Dr. Ajay Kaduskar in his acceptance speech thanked members in trusting him to lead API VC and promised to hold academic programmes in physical form if the situation permits or continue on virtual or hybrid format . He later on Presented his Presidential Oration on" Covid and diabetes navigating the twindemic."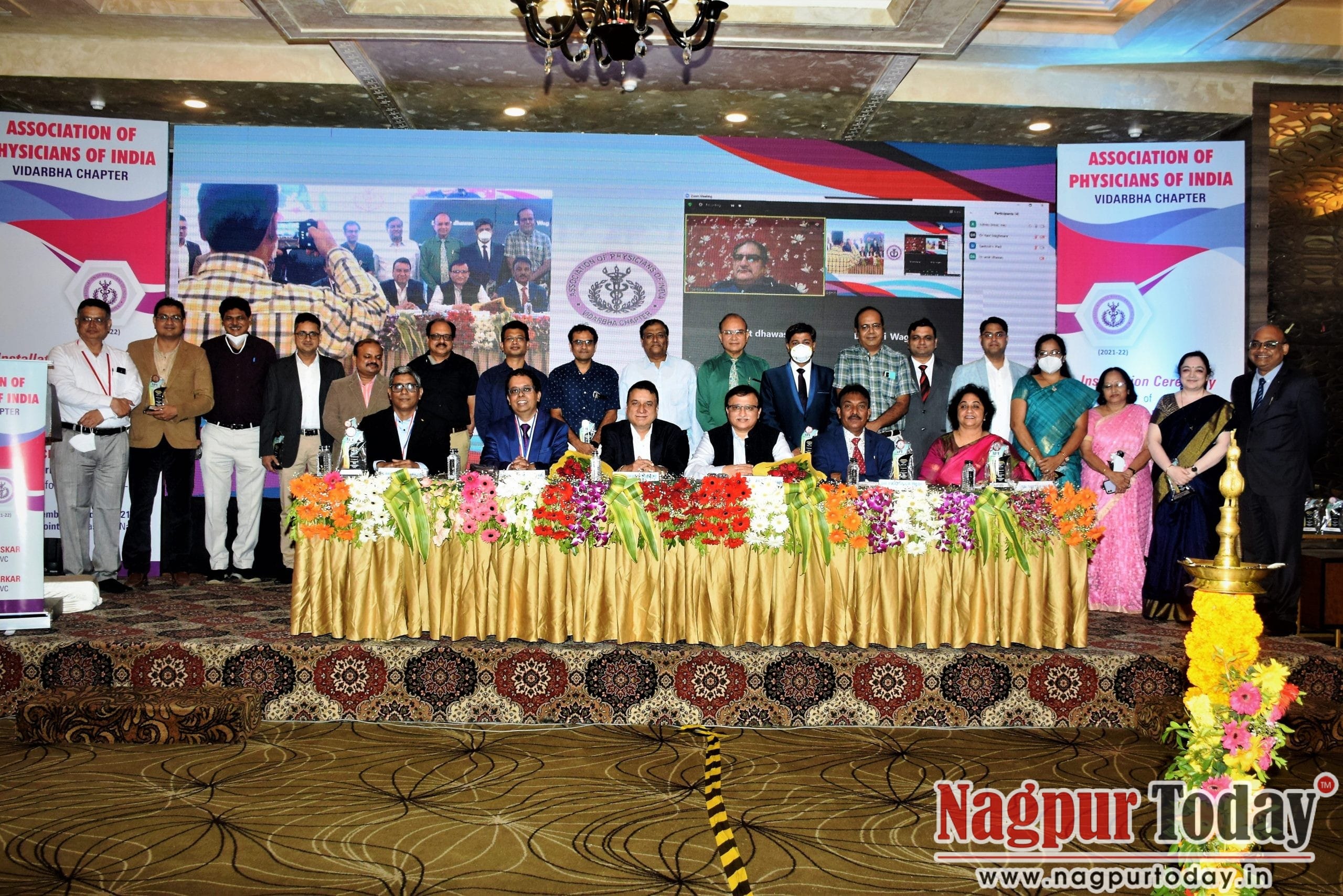 Dr. S. D Suryawanshi and Dr Ramesh Mundle were chairpersons. Dr Mangesh Tiwaskar delivered a talk on "Managing diabetes in 2021". Dr R. B. Kalamkar and Dr S. N Deshmukh chaired the session. Dr. Suhas Erande spoke on "Time in range in clinical practice" Dr Shankar Khobragade and Dr Nikhil Balankhe chaired the lecture. Dr. Aamol Meshram and Dr. Vandana Admane were the Master of Ceremony.
A public forum was held from 3 to 4 p.m. on "Current Health Myths and Facts" at the same venue in collaboration with Rotary Club of Nagpur South, Bahujan Hitay Sangh, Vandana Sangh Deeksha Bhoomi, Dr. Ambedkar Mission, Maharashtra Officers Forum, Awaj Inida T V and Babasaheb Ambedkar Health Organization.. Dr. Shankar Khobragade guided on Dengue. Dr. Ajay Kaduskar explained Diabetes and misconceptions. While Dr. Dipti Chand spoke on Covid and Misconceptions. They at the end answered queries from audience. . Dr Sandeep Kharkar Secretary conducted the programme & also proposed the vote of thanks.