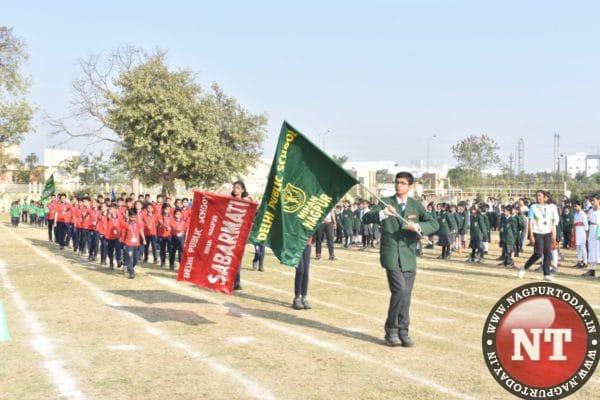 Nagpur: The 74th Republic Day was celebrated in Delhi Public School MIHAN with zeal and vigour. Major (Retd) Rajat Chakraborty graced the occasion as the Chief Guest and unfurled the Indian Tricolour. The Principal of Delhi Public School MIHAN Nidhi Yadav along with the PTA members, teaching and non-teaching staff was present on this occasion.
The students of the school gave the salute to the Indian flag and presented a spectacular march past. The students performed scintillating dance on various patriotic songs and the choir mesmerized everyone with the song "Lehra do…Lehra do".
Saanvi Sharma expressed her thought on the significance of Republic Day and the laid the importance of the Constitution of India. Ishan Dhopte recited a poem on the armed forces of the country. The medal winners of DSO championship in Karate displayed various Kathas of Karate.
The chief guest of the programme in his speech motivated the students to set goals for themselves and chase those goals with determination and hard work without any fear. He congratulated the students who have competed in various competitions and brought laurels to the schools.
The President and Pro Vice Chairperson of DPS MIHAN and Kamptee Road Tulika Kedia and Savita Jaiswal, Director of DPS MIHAN and Kamptee Road extended their greetings to the staff and the students on the occasion. Nidhi Yadav in her welcome address expressed delight and pride in the rich culture of the country and urged the students not only to enjoy the rights given by the constitution but also perform the duties towards the country.
The programme was hosted by Pavani Gaur and Supriyo Dutta. The programme culminated with the vote of thanks which was proposed by Jagruti Vaddi.