Do you like to know everything that's buzzing in Nagpur? Like our page to stay updated!
"What's in a soup?" You will ask. Some boiled vegetables mashed together with some milk added to the broth.
Wrong!!!
Making soup right is even beyond Art. As Ludwig Beethoven commented "only the pure in heart can make a good soup!"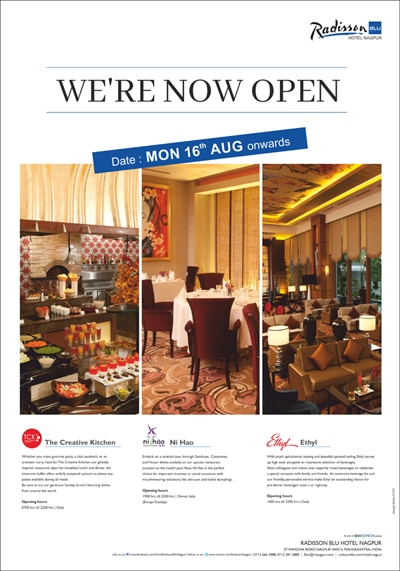 Someone else also said " a first rate soup is more creative than a second rate painting."
We may add that a good soup is a meal by itself. It can have almonds and cream and be an Emperor's food and also have cabbage and carrots and become a poor man's nourishing broth!
Contrary to popular notion, it is not at all a sick person's food, though it CAN cure a sick person! It is so curative in fact, that when an author, Jack Canfield, wrote his famous series of Motivational books he called them " chicken soup for the soul!" They were international best sellers! Just like good soup can be…
Different kinds of soups
Every nation known for its cuisine has its unique soups. French onion soup is one such soup, in which the broth is simmered with well-browned onions until it is sweetened and enriched with their flavor, then poured over thick slices of bread, and covered with a layer of broiled cheese.
French also have consomme – a clear soup so complicated to make that it is considered 'Queen among soups'.
Vietnamese pho bac is a noodle soup based on a rich meat broth, spiced with ginger, anise, cinnamon, and chilies and seasoned with pungent fish sauce that is poured over thin slices of raw meat/ beef, rice noodles, sliced onion, bean sprouts, and fresh chilies, and garnished with fresh mint and cilantro.
For Japanese shabu-shabu, thin slices of beef, onion, cabbage, radish, and mushrooms are dropped into a pot of simmering water flavored with a piece of kelp, ( sea weed) then eaten with a variety of condiments; the flavorful broth—sometimes extended with noodles—is drunk at the end of the meal.
But why go so far?
These are soups of Indian origin
In South India, what we know as rasam, is actually a sour and savoury soup! The famous Mulligatawny soup which we think is British is of Indian origin derived from Tamil words meaning rasam and rice – with some chicken and vegetables added to it!
Our famous Nagpuri Saoji Paya can also be made as delicious mutton broth soup, and is available as such in some upscale Indian restaurants.
Where to go for good soups in Nagpur?
If soups can be a delicacy, they can also be a disaster! So do not make mistakes in your choice of restaurant for a good, not great, but good enough soup. (I do not think great soups are available in our city yet!! Someone please prove me wrong!!)
Ashoka Restaurant, Sadar – Do try their cream of chicken or if you are a vegetarian then cream of mushroom or spinach soup. Rich, creamy with just the right flavours… and yes, accompanied by generous bread basket with butter. (But they do charge Rs. 100/ extra for it).
They also have a wide choice of Chinese soups. Their minestrone soup is worth trying too.
Hotel Nanking, Civil lines Nagpur
I think every Foodie Nagpurian must have had their sweet corn/ chicken soup at least once! With a dash of soya sauce and a dribble of green chillies in vinegar…ooh! mouth watering! Nanking introduced Nagpur to Chinese food over 40 years ago, their Chinese soups have to be good! Many regulars like to order one portion sweet corn and one portion hot and sour and then mix the two!
But what many do not know is they offer Chicken/ egg asparagus soup too, which is my personal favourite.
There is prawn soup available too, as is Wanton.
Ni Hao, Raddison Blu, Wardha road

Ni Hao is Raddison Blu's Oriental food restaurant and is already popular with city epicureans.
Their menu prices are definitely, on the high side but they do have some soups that are not only delicious but quite reasonably priced too!
If you are in a group of 5 – 6 you should definitely try their Chimney Pot soup which is their House special and comes in choice of seafood/ chicken/ vegetables. It is served in a special chimney pot and contains tofu, shitake mushrooms, bok choi, Chinese cabbage, carrot and glass noodles. f you order one whole pot which can be shared by 5 -6 easily it will cost you Rs. 1099/ 999/ 949 for seafood, chicken and veg respectively. Not at all bad for 6!
They also have other soups like dumpling with burnt garlic and Lung Fung soup which is only in sea food and chicken options.
Little Italy, Civil lines
This is part of a Indian chain which specializes in strictly vegetarian Italian food! There is good choice though and if you are willing to forego your fish and meat for a day, a good place for soups.
They have various soups with exotic names like Pasato Di Verdure ( cream of vegetable with cheese and crunchy croutons), Creme di funghi (cream of mushroom), Zuppa di Pomodoro ( tomato soup) etc.
The soups are flavorful, filling and not very expensive. Most come with crunchy crotons, which children love!