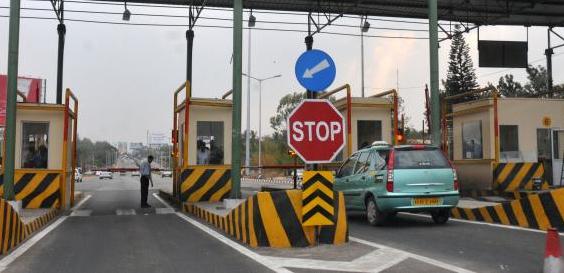 NHAI (National Highway Authority of India) agreed before the Supreme Court to shift its controversial toll plaza from Dongargaon to Borkhedi near new bypass on National Highway No 7. This is a major victory to entrepreneurs and employees at Butibori. This will provide much needed respite to thousands of motorists who commute from Nagpur to Butibori and vice versa. The toll booth in question was already declared "illegal and unauthorized" by the Nagpur bench of Bombay high court on July 17.
Senior counsel MG Bhangde appearing for Butibori Manufacturers Association (BMA) told us that "The apex court has issued notices to the respondents including NHAI and Oriental Nagpur Bypass Construction Pvt Ltd, asking them to reply within two weeks,". He added further that both petitioners and respondents had filed Special Leave Petitions (SLPs) in the apex court.
Initially, it was BMA that had opposed toll collection by Oriental at Dongargaon booth from vehicles not using the bypass constructed by it near Borkhedi. A citizen Mujib Pathan then filed a PIL on the same issue followed by Kukku Marwah of Truckers Unity. Both these petitions were clubbed with the original petition during hearing.
The petitioners had said that the company had illegally constructed the booth on NH-7 despite the fact that it had nothing to do with it, as that stretch of highway was constructed 10 years back. They also pointed out that the NHAI had entered into a pact with the Oriental company to construct a bypass for NH-7 from Khawasa border to the Nagpur intersection at 14.58 KM from Zero Mile on October 5, 2009, and later awarded maintenance contract to Oriental for 22 kms stretch of NH-7.
In response to their plea, the high court had granted an interim stay on toll collection in October last year. NHAI chairman, project director and chief general manager along with Oriental company were made respondents in the case. On July 17, a division bench of justices P Hardas and ML Tahaliyani finally quashed and set aside the contract of maintenance of a stretch of NH-7 awarded to Oriental and also told the company to refund amount of approximately Rs6 lakh it had illegally collected from vehicle users in the form of toll. The petitioners and respondents then moved the Supreme Court.