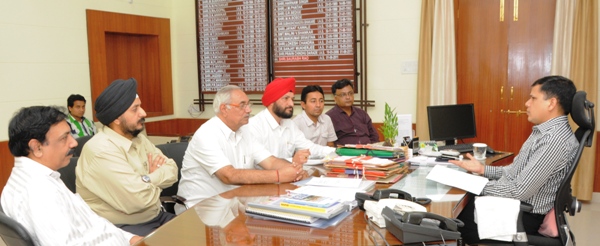 Nagpur News : Recently Government of India through Ministry of Petroleum and Natural Gas, New Delhi has amended LPG Control Order whichnow permits only one LPG connection, along with Double Bottle Connection (DBC) in any household consisting of husband, wife, married children and dependent parents living in a dwelling unit having a common kitchen, resulting multiple LPG connections in a household totally forbidden and to be surrendered.
Taking issues arising out of this along with withdrawal of subsidy after 6 domestic LPG cylinders a delegation of Vidarbha Taxpayers Association (VTA) led by its President J. P. Sharma met and submitted a memorandum to collector Saurabh Rao and also sent memorandum to Veerapa Moily – Minister for Petroleum & Natural Gas and R. P. N. Singh – Minister of State for Petroleum & Natural Gas, New Delhi.
J. P. Sharma said that it seems without considering Indian culture and family values this amendment is carried out by the Government. Many families in India are still living jointly in a single dwelling with one kitchen and under such circumstances they'll have to bear more as they require much more LPG cylinders as compared to a nuclear family. In our India culture number of kitchen plays very important role and it is the deciding factor within families of division and united. So to take advantage of 6 subsidized cylinders per year per dwelling, joint families shall be compelled to form separate kitchen, which in other word clears raises a serious question mark – Does Government wants to divide families ?
Tejinder Singh Renu, Secretary VTA said likewise formation of another category of Non-Domestic 14.2 kg LPG cylinder has been introduced, wherein its price ranges around ` 1100 plus and its user includes charitable institutions like, hospitals, home for aged, students' hostels and similar, which is causing immense burden on their financial position.
Renu said likewise many residential buildings / flats schemes had installed LPG banks in ground floor, which was highly recommended and promoted by Petroleum and LPG Companies when introduced. From these banks supply to domestic gas, generator and at times to water heaters are provided, now billing and subsidy calculations has created problems in such buildings dwellers.
Memorandum appreciated the process adopted by Ministry and LPG Companies wherein online / SMS booking facility shall help in keeping better record and shall also bring an end to corrupt practices.
Similarly VTA's memorandum specifically agreed that removal or partial removal of subsidy shall help our country's economy, however highlighted that Government should also not forget that still majority of our population falls under poor category and as such some mechanism is required to be introduced so that they get advantage of subsidy in cylinders consumed by them.
VTA demanded that instead of 6 subsidized cylinders per dwelling, number of individuals or size of the family must be considered to grant number of subsidized LPG connections, which is absolutely justified and shall not term as punishment to Indian families for staying together. Similarly rise of minimum cap to 9 cylinders from existing 6 is demanded, which gradually may be reduced after verifying actual records of consumption available later.
VTA also demanded consideration for charitable institutions as they deserve subsidy for their services of betterment to the society.
VTA specifically mentioned that this memorandum has been prepared considering position of a common man; as businessmen and industrialists can very well bear cost of cylinder without subsidy, however same shall cause serious dent of pocket of a daily wager, labour, petty servicemen, retired citizens and similar.
After patiently hearing plea raised by VTA, Saurabh Rao admitted that number of persons in a family should be considered for number of connections and this surely requires consideration and promised to forward the memorandum to the Government with recommendations.
Present in the VTA delegation were Joint Secretary Hemant Trivedi, executive body member Yogi Singh, Rajesh Kanoongo and Saqib Parekh.