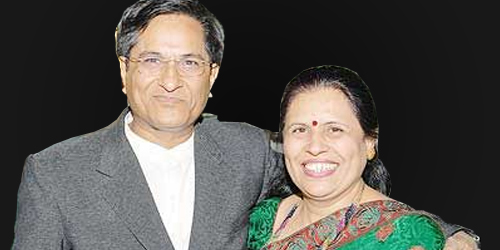 This interview is about a man who can play with instruments, play with poetry, know your brain, and tell you 'All is well'. The man who is a poet and  Central India's No.1 Neurosurgeon- Dr Lokendra Singh.
Nagpur Today: Sir,please tell us something about yourself.
Dr.Lokendra Singh: Well I am mixed bag. Back in my college days, I was not as active and as I am today. As I went ahead in my life I got so much into poetry ,stage ,art I may not be called a master of all trades but I have mastered in the surgery.
Nagpur today: How do you feel when people call you the number 1 neurosurgeon in the country?
Dr.Lokendra Singh: Well,I think it's their kindness. It's difficult to judge yourself but if they say,I would rather believe it.
Nagpur Today: How did poetry happen to a neurosurgeon?
Dr.Lokendra Singh: Haha, it's funny. I hardly used to write because I am a very busy neuro surgeon so, 8-9 years back I had malaria and I hardly get sick. But this time I had been asked to take complete rest and I was bored to death. So I told my wife that let me write something and I believe I am from the warrior clan and in my family our motto was,"Jai jawan jai kisan". People used to make fun of me that you are a 'jatt' and that you have no brains and yet you have become a brain surgeon? And then I thought, why not write a poem on this. I called it 'Vidambna' and then I wrote 'Main aur Dimaag'. It's my signature poem,which is a funny one but it becomes very serious in second half. Everybody liked it so much and so I was encouraged to write more and more .
Nagpur today: Is this poem your best poem?
Dr.Lokendra Singh: This is my signature poem and my best one too.
Nagpur today: Is it true that when you operate, you have some music on in the background?
Dr.Lokendra Singh : Yes, it's true! Not a song, but I do have an instrumental tune running in the background, because everybody feels calm and serene. And neurosurgery is an extremely difficult branch of medicine. But as soon I go under microscope, I have to concentrate. It is equivalent to meditation. Everyone is silent so as to help concentrate better because even a single millimeter mistake is like a kilometer loss for us.
Nagpur today: People know a couple of facts about the brain but what is that one thing people don't know about the brain?
Dr.Lokendra Singh: People probably don't know that we hardly use 20 percent of our brain. The rest 80 percent is unexplored and it has tremendous capacity and potential to develop into wonderful things. It does not surprised me that the Mahabharat says that Sanjay could see the war and could tell Dhritrashtra sitting in the dark room that there was Pushpak Viman. These things are probably not flukes. You can train your brain according to your wish. Basically,it is a big electric installation with many circuits. Brain is the most superior instrument. I won't be surprised, when somebody says that what am I talking but I am a scientist. Now we are surprised that a big pool of movies can fit in a pendrive even when the pendrive is so tiny.
Nagpur today: You spoke about brain train but what you think about brain drain?
Dr.Lokendra Singh: Brain drain is certainly an issue in India. We are the biggest sufferers because we produce the best people but because they do not get paid as their worth,they go to places where they can get the it. But time is changing now, they have seen now India is changing and growing, I am one example of brain drain but in a reverse way. I feel that my motherland is MY motherland I would prefer being a second grade person in my country rather than being a first grade person in another country. At any time, they can change their rules, change their policies and ask you to leave .
Nagpur today: When a person doesn't use their brain, some people say that their brain is in their knees. What is your opinion on this? So what is the relation between the knee and the brain?
Dr.Lokendra Singh: well it's said jokingly but the fact is the brain is like 'life'. The more you use your brain more it sharpens. It's like Sudoku. If u try to do new things, the brain develops a new circuit. Neurons make a path and their capacity increases. It is mathematical, the more you think, the more you use it, the more it sharpens. So people think that when you don't use your brain at all, the mental capacity goes down. So it's a way of asking people to use their brain properly.
Nagpur today: what is your fitness mantra?
Dr.Lokendra Singh: I have a thought. "All these fitness people, fitness gurus who have started instilling in our mind that a body is of this particular shape and if you do not fit in that particular shape, you are sick and you will die. I think is all rubbish. Scientifically, body shapes are of three types .Everyone is genetically different. Putting on weight unnecessarily is not right ."Come to my gym for this kind of body shape" is not what I agree to. So I can just say my fitness mantra is you should learn how to release your stress . In Hindi "Mann achha toh tann achha"
Nagpur Today: Tell us something about your family.
Dr.Lokendra Singh: I am a family man .My wife is a dear friend who is more socially involved than I am. So she takes care of all my social connections and she is a trained dress designer and runs a successful boutique. My elder daughter Nupur who is doing MDS, younger one is Surabhi and she is doing Architecture. This is my small and happy family.
Nagpur today: Let's have a rapid fire round with you.
Favourite Actor: Dharamendra
Favourite Actress: Hema Malini
Favourite Food: Pizza
Favourite Song: Mere Desh Ki Dharti
Favourite Film: Safar
Favourite Poet: Kavi Pradeep
Favourite Holiday Destination: Nothing like Switzerland 
One gift you gave your wife that she can never forget: Recently I gave her a diamond. Diamonds are forever.
Nagpur: People are great, but the laid back attitude is an area of concern. People coming from other cities and states are growing faster. So it's time to wake up.
Nagpur today: As you are known, respected and loved so much, any plans to get into politics?
Dr.Lokendra Singh: No. No such plans. I am sorry to say that my country might have been far, far ahead if politics had not been there. Corruption is everywhere but it's as they say, "Aate mai namak ke barabar". "Yaha toh namak mai aata hai Bhai ". And one thing I want to make clear, these politicians take credits for the growth but it's actually because of the young, vibrant middle class which is progressing against all odds.
Nagpur today: When you vote, what do you look for in the party or the person?
Lokendra Singh : Earlier I used to vote for a person because a person is bound with party philosophy. So it's better to vote for the party but you need to judge a party which has the least corrupt members first.
Nagpur Today: What you think about today's youth?
Dr.Lokendra Singh: They are open and free. They can speak the truth bluntly, they are blunt and it's often good because truth itself is blunt. They are honest, they dislike the system, majority of them are cautious of their country and about themselves. There is a desire in them and there is an energy in them to do something new. It was pretty evident in the latest Delhi rape case.
Nagpur Today: Being a father what is your opinion on the Delhi rape case?
Dr.Lokendra Singh: The punishment should be very harsh and I don't believe in "Paap ko maaro Paapi ko nahi". If you do such an evil thing, what do you expect to get? Just today I read that Dr.APJ Abdul Kalam said that India should have a policy of never forgetting and never forgiving. Somebody hurts you, you must never forget and never forgive. It applies to the whole nation. One of the most unfortunate things about our country is "Mann kachha hai iseeliye tan saath nahi deta."
Nagpur Today: What is your "Jeevan ka Mantra "
Dr.Lokendra Singh: Do the best, eat the best, wear the best, whatever you do in life should be "BEST".
Nagpur Today: How can someone get in touch with you and read more of your poetry ?
Dr.Lokendra singh: They can log on to facebook and look for my name and add me as a friend.
Nagpur today: Thank you sir.
Lokendra Singh: Thanks. My best wishes are with Nagpur today.
—- By Yash Raj Trivedi