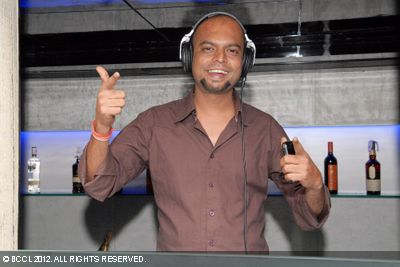 Nagpur Today Youth Icon : Music is Part of our life and the one who plays music is a very imp part of music itself. The whole credit for a "dhamakedaar" party goes to DJ of the party and today we are here for a music conversation with city's own Dj Chetan who is new into industry but not less than the old ones. Here is a small chit chat with Chetan.
Suhani : Tell me something about yourself?
DJ Chetan : Well nothing great , a usual guy . Did my graduation from hislop college Nagpur and then a diploma a business management ….and here I am now,a DJ.
Suhani : So how did it all begin?
DJ Chetan : Was into music since childhood , I used to party a lot but actually was always more interested in watching the dj rather than dancing , I used to stand outside the console and observe what the dj is actually doing with the players , gradually my interest grew more n more , started watching videos on youtube of different dj's and that's how I learnt to play .
Suhani : Is it your real name?(DJ CHETAN).
DJ Chetan : Yes its my real name , Chetan k Rajoriya.
Suhani : What makes u choose this as a Career.
DJ Chetan : Not many people get an option to take a profession of their choice , I feel lucky to get one , I always wanted to take a carrier related to music so I chose djing . Its always been my passion …and is now my profession .
Suhani : Your fav DJ and Why?
DJ Chetan : Well the list is long but to choose from the list , my fav would be Deadmau5 …..I simply love his production , the way he mixes and plays , the pick ups , drops, progression etc ….one who understands music will understand what I am talking about.
Suhani : What was the first event you ever played at/put on?
DJ Chetan : It was a saturday night in pune , I played an opening set for Nikhil Chinapa.
Suhani : What's the best event you've played at/put on?
DJ Chetan : The best was 2 yrs back here in nagpur again with Nikhil Chinapa and Dj Nawed .
Suhani : Out of all the tunes you have, which one 'never fails?'
DJ Chetan :  The tunes are ' Beautiful Life ' and ' we gonna feel it ' …..they actually have never failed.
Suhani : Who's throwing the best parties at the moment?
DJ Chetan : Well to be very frank , the party scene is a little sad these days here in town , hope it starts soon.
Suhani : What makes you apart from Other dj/s in cities?
DJ Chetan : I must say there nothing extraordinary with me , its just the song selection and mixing and matching of tracks , one needs to understand the party's mood and play accordingly.
Suhani : Ever played in other countries/cities?
DJ Chetan : Yes played across India in clubs and private parties as well .never got an opportuinity to play abroad , hopefully pretty soon will get one.
Suhani : So how is the scene in your eyes at the moment?
DJ Chetan : At the moment it's a little sad as I mentioned earlier , m just hoping it gets better soon.
Suhani : Funniest thing that ever happened at an event?
DJ Chetan : Nothing specific I remember , though it's always fun to watch people getting sloshed and the acts they get involved in after a few drinks.
Suhani : Any best experience..
DJ Chetan : The best experience was a few years back @ IMT college ,katol…..it was their annual college fest and I was called to play ,…..a few days before the fest a 2nd year MBA student of the same college passed away in an accident so on the annual day , two of his friends dedicated a track for the one who passed away …..while they were singing the whole bunch of around 1200 students along with me n my crew were soaked into tears , that night I came to know the value of relations and how music bonds us together.
Suhani : Best and worst part of being an DJ?
DJ Chetan : Best part is u are always connected to music and u make money out of your passion , not many are so lucky ..and the worst would be …when the world parties , u are actually busy working .
Suhani : What do you do outside of the dance music scene?
DJ Chetan : Basically I  trade in coal ,minerals and metals.
Suhani: What advice would you give to up and coming DJs/Promoters?
DJ Chetan : The only advice would be one should concentrate on music and mixing rather than his or her attire…..wearing funky clothes, earings ,noserings , tattoo etc doesn't make u a good DJ .
Suhani : Any message to nagpurians?
DJ Chetan : No such advice …..I'd just say …..work hard , party harder.
 By Suhani Vanjani