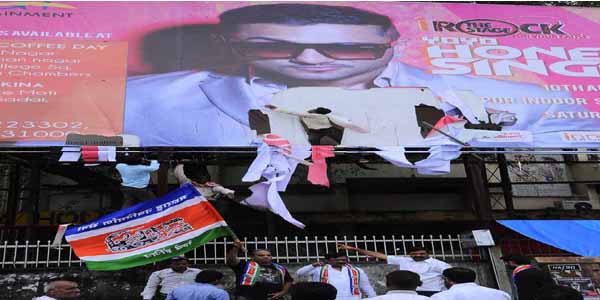 Nagpur News: The new twists. The new turns. The new turnabouts. The new U-Turns:  All these facts are being witnessed in Nagpur where the rapper Ala pop singer Yo Yo Honey Singh's concert is being organized. However, the sudden refusal of permission to hold the concert at Divisional Sports Complex, Mankapur, has forced the organizers to knock doors of the Nagpur Bench of Bombay High Court. The hearing will take place on Wednesday (August 7, 2013).
Earlier, the Divisional Sports Complex, Mankapur, was given on rent and the organizers of the concert, Innovation Solution and Invent had paid the rent charges.  The concert is scheduled to be held on August 10. Due to rainy season the organizers had asked for permission to hold the concert of Honey Singh at the Indoor Divisional Sports Complex. Accordingly, the management Committee of the Sports Complex gave the permission to hold the concert at the Sports Complex on July 26. The organizers were to remit Rs 2,79,000 as a rent charge and an additional Rs 5,00,000 security deposit.
However, suddenly, the Deputy Director and Secretary, refused the permission to hold concert at the Sports Complex. The organizers of the concert were taken aback by refusal of the permission. Left with no choice, the organizers have moved the High Court against the decision of the Sports Complex management. Hearing in this connection will take place on Wednesday (August 7, 2013).
It may be recalled that the Maharashtra Navnirman Sena and Shiv Sena have opposed rapper Honey Singh's concert in city. The lyrics and presentation embedded in Honey Singh's numbers played the bone of contention once again. Recently, Honey Singh drew flak nationwide owing to the use of objectionable words in his songs. The protest against the show was apparent as Shiv Sena burnt the effigy of Honey Singh at Panchsheel Square on Saturday.
Citing Maharashtra Chief Minister Prithviraj Chavan's statement, the parties said that the stadium should be used only for sports activities. The MNS delegation met Member Secretary of Divisional Sports Complex Jaiprakash Dubey on Sunday and demanded cancellation of the programme.