Disgraceful: Did Grace Toyota cheat "valued" customer in the name of VIP number plate ?

The Toyota car dealer Cosmic Grace Auto adopts a new modus operandi to commit fraud on "trusted" customers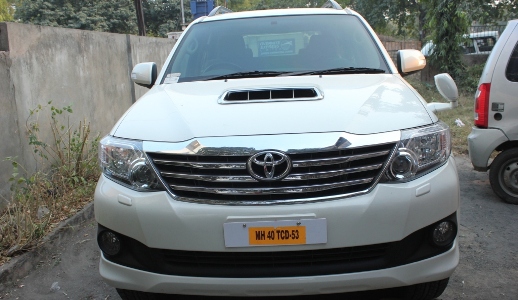 Nagpur News.
The Toyota car dealer, Cosmic Grace Auto, now-a-days a "Disgrace" following a series of fraudulent dealings, has now adopted a new modus operandi to cheat the "valued" customers. And the nefarious dealing got exposed, too.
The Toyota dealer has shattered the trust of a 20-year old customer of Toyota,  Premkumar Taori and his company K K Builders by cheating him. Premkumar Taori is genuine customer of Toyota and has been using Toyota cars for the last 20 years. He has purchased around 10 cars in the company's name "KK Builders" and individually. The trust that they had on Toyota dealer was crushed when Premkumar
Taori purchased a "Fortuner Auto SUV" from Cosmic Grace Auto Showroom, Nagpur. Taori had made a final payment on October 14, 2013 of Rs. 26,10,000 by RTGS/Cheque. He had also paid Rs 50,000 for VIP registration number and the balance of Rs 20,000 were to be paid later. (Extra money towards the special registration number MH40 AC-111). Accordingly, on October 20, 2013 they got the delivery of the car.
However, after a few days, a salesman from Cosmic Grace Auto visited Premkumar Taori and took away the car to get the registration number plate of choice that he had opted for and the salesman bought his car back with the special number plate MH40 AC-111.
But the real game of cheating was played on December 6, 2013. Some people from Grace Toyota arrived to Taori's office and informed him that his car is not yet registered. It was also learnt that the registration number that was given to Taori was in fact issued to another customer of Grace Toyota. (For an Innova car probably for extra charges). They asked Premkumar Taori to remove the existing specia registration number plate and told him that they will proceed with the registration process on December 6, 2013.
At the time when Premkumar Taori purchased the car (Oct 14, 2013), charges for special registration number levied by RTO were Rs 70,000 and now the choice number (111) that he wanted and for which he had paid money is not available in the series. In order to get the special number in the upcoming series, charges are increased to Rs 2,10,000, a net 300 per cent more.
This way the fraud was committed by Cosmic Grace Auto. Without legal registration number, Taori was using the car for almost 2 months, totally unaware about the fact that he is being cheated. What would have been repercussions for any police action or accident if at all it had occurred with the vehicle?
Premkumar Taori claimed that he was having blind faith on Toyota dealer and as a genuine customer he had expected justice from them on this matter.
What is more painful is that it is alleged that when Premkumar Taori and his staff went to complain to the owner of the showroom, he was told categorically that they are the only dealers in the entire Vidarbha, and if Premkumar Taori complains, they will get the registration done but will not get after sales services. It is also alleged that the owner Chhabra is also involved in the entire scam.