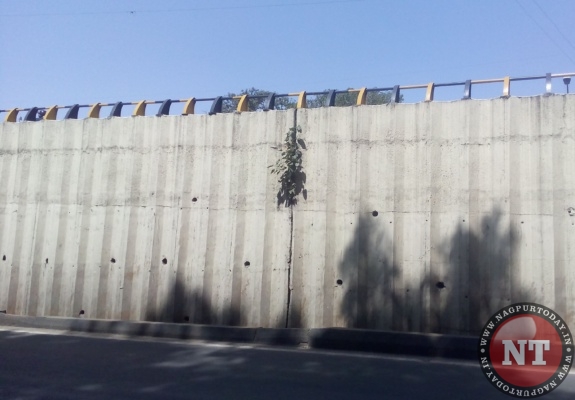 Nagpur: The Sitabuldi Flyover, 'emotionally' called Adivasi Gowari Shahid Uddan Pul in local parlance, is facing a kind of peril due to lack of proper maintenance. The 'not to be alarming' peril could lead to a major hazard in coming months if corrective measures are not initiated. For the flyover is coming under 'siege,' slowly and steadily, of rapidly and menacingly spreading roots of peepal trees nearby. Peepal tree is notorious for spreading its tentacles at any easily available space – bathroom, toilet, compound wall or any damn space of a building or construction.
A look at the Sitabuldi Flyover revealed peepal tree is getting grown at the walls of the flyover at many places. If not controlled, the peepal trees would assume bigger and bigger shape and thus pose hazards to the flyover in the form of widening cracks. The cracks over the time would render the imposing flyover weaker and weaker from inside and outside as well with the passage of time. This weakened flyover could start crumbling not only by the ever growing roots of peepal trees but the vibrations caused by hundreds of vehicles passing through it. The time would not be far away when the Sitabuldi Flyover would be standing with the support of peepal trees and collapsing on a day of disaster. Once fully grown and roots spread all over, it would be a herculean task to get rid of peepal trees. For cutting the menacing peepal trees, portions of the flyover would have to be demolished at many places. And this does not bode well for the 'health' of the flyover.
The nearby alert residents see a dangerous situation lie in wait. The residents and other worried citizens have demanded concerned authorities to carry out inspection of Sitabuldi Flyover and get rid of rapidly spreading peepal tree roots for safe and long life of Gowari Shahid Memorial Udan Pul.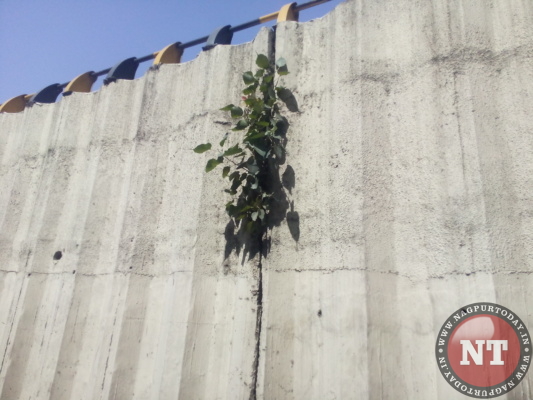 Gandhibagh Zone building:
A building adjacent to a meeting hall in NMC's Gandhibagh Zone is also in grip of peepal tree and other trees and weeds. The flora is thriving at the first floor of the building on the 'energy' being provided by 'leakage.' Are babus of Gandhibagh Zone aware of the danger the peepal tree and weeds posing to the building? Will they take pre-emptive steps to save the fast dilapidating building? Or will they wait for a tragedy to occur?