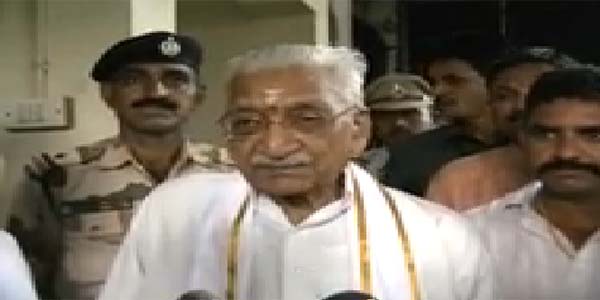 Nagpur News: The Vishwa Hindu Parishad leader Ashok Singhal termed Congress leader Digvijay Singh as mentally imbalanced and an insane person who is in habit of uttering non-sensical and baseless statements.
Ashok Singhal arrived at Nagpur airport en route to Amravati for attending a 7-day RSS camp to be held at Vyankatesh Lawns on Badnera Road in Amravati. The camp would be attended by key leaders of RSS, VHP and other associated organizations.
The VHP leader, briefly talked with media at the airport. When a scribe asked for his comments over Congress leader Digvijay Singh's statement that the RSS provides training of bomb making in its camps to RSS Swayamsevaks, Singhal said, "Digvijay Singh has been frustrated over the fact that Congress would certainly be thrown out of power by the voters in the next Lok Sabha elections. And out of that frustration he gives baseless and meaningless statements after statements. In fact, Digvijay Singh has lost mental balance and has gone insane. Therefore, no intellectual person gives any weight to his absurd statements. My advice to him is that he should think twice before giving any baseless statement in future," Singhal stated.
Replaying to a query on Narendra Modi, Singhal asserted,  "The Gujarat Chief Minister has been accepted and supported, too, as Prime Ministerial candidate by a vast population of the country. He is a very popular leader. He is a visionary. When a large number of people support Narendra Modi as Prime Ministerial candidate, my and VHP's feelings could not be different from the vast number of people. We also want him to become the Prime Minister," Singhal said.