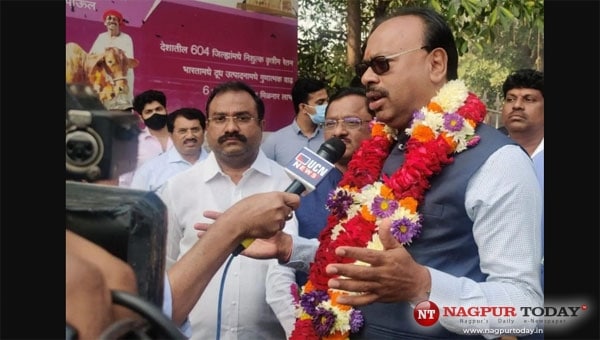 Nagpur: Following his resounding victory in MLC poll from Nagpur Local Authority constituency, the BJP candidate Chandrashekhar Bawankule took a dig at MPCC President Nana Patole and said dictatorship led the Congress party to bite dust in the election.
BJP's nominee Bawankule won the State Legislative Council election from Nagpur by defeating Mangesh Deshmukh, a Congress-backed independent candidate on Tuesday. In the first-preference vote count, Bawankule got 362 votes while Deshmukh received 186. Dr Ravindra Bhoyar got one vote.
Interacting with media persons after his victory, Bawankule said, "Congress received a jolt in the poll for changing its candidate at the last minute under pressure from Nana Patole. We got 44 votes from Maha Vikas Aghadi. This is the result of dictatorship. Dictatorship finishes the man. The defeat of the Congress party is the defeat of Patole and he should quit his post," Bawankule said, adding "horse trading did not take place in our party. It is the Congress where the horse trading occurred," the winning candidate declared.
At the time of voting, BJP had 318 votes. But the party nominee Bawankule actually received 362 votes. 44 votes more than the BJP quota. The Independent candidate Mangesh Deshmukh got 186 votes while the official Congress nominee Chhotu Bhoyar could get only one vote.
The last minute change of candidate cost the Congress party dearly and the party faced the humiliating defeat in the MLC polls.