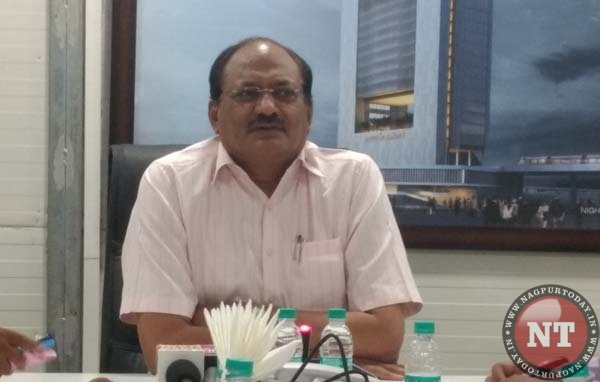 Nagpur: Even though it is a challenging task, MahaMetro managing director Brijesh Dixit is confident that two stretches of Nagpur Metro will be operational by March. These are: Sitabuldi to Khapri (Reach 1) and Sitabuldi to Hingna Road (Reach 3). Going by the progress Reach 1 will be completed before Reach 3. "Work on the viaduct of Reach 1 is 97% complete. All the pile foundations and segment casting are complete.
As far as segment launching is concerned, 302 spans out of 307 have been launched and remaining work will be completed within a few days. Some 58 pier arms out of 62 are complete," Dixit told sources. When Metro starts plying on Reach 1, only six stations will be operational in the beginning. Three of them on the at grade are complete while work is going on remaining three (Airport, Jaiprakash Nagar and Sitabuldi). Airport is 65% complete, Jaiprakash Nagar's figure is 48% and 50% on Sitabuldi is over. Importantly, the north-south platform in Sitabuldi is ready. It will take some time before the three stations are completely ready for operation. About 65% telecommunication work is over. "All equipment are being programmed at Airport South station.
The programming of equipment would be completed by January 12. Then they would then be shifted to respective Metro stations. Once shifted, equipment can be commissioned in a single day," Dixit further said. The work of auxiliary substation and 33kV cable network is in advanced stage and will be completed by February. Already 80% work has been completed for required stations and viaduct. Electrical equipments at three stations has been already commissioned. Balance work is in progress and will be completed within target time frame. The work of installing overhead electrical portals is 70% complete and will be completed by month end. Overall signalling system progress including design, procurement, manufacturing and installation is 70% complete. Design, procurement and manufacturing has been done. Signalling interlocking system has been already installed in at grade stretch. Signalling system based on communication based train control (CBTC) equipment has been installed at Khapri Station.
Installation of equipment are in progress at Airport and Jaiprakash Nagar stations. Signalling system is being readied for service trial on at grade section with CBTC. An important component of the operation is the depot in Mihan, where trains will be parked and maintained. "Overall progress achieved so far is 60%. Time and security office, traction sub station, auto coach washing plant along with control room, laying of test track, engineering train unit (ETU), shed and auxiliary sub station are complete and operational. Other buildings such as main office, internal cleaning shed, underground pump room are under advance stage of construction. Two rakes along with required machineries have been arranged," said the MD. MahaMetro is also readying its manpower.
"Some 33 new staffers have joined in various capacities. The posts on which they have joined are section engineer, junior engineer, station controller, train operator, traffic controller and technician. The new recruits were given basic training of Metro operations. An orientation programme was also organized for them. They have been sent to Delhi Metro Rail Corporation (DMRC) for further training in the areas of telecom, signalling, automatic fare collection (AFC), etc. The entire training process at DMRC will last for one month," said Dixit.
While MahaMetro may complete its work by March, it will not be able to run trains unless it gets clearance from Research Standards and Design Organization (RDSO) and Commissioner of Metrol Rail Safety (CMRS). The Metro agency has already started sending documents to them so that they come for inspection in March and give the green signal within a few days.
Work completion status Viaduct | 97% Elevated stations | Over 50% Ground level stations | 100% Telecommunication | 65% Signalling | 70% Electrical work at stations | 80% Electrical work on viaduct | 70% Depot | 60% Manpower | Undergoing training Certification | Communication going on