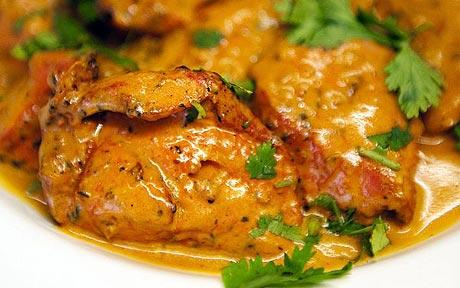 Chicken cooked with fresh coriander leaves and it is not too spicy!!
Ingredients
1200 g chicken thigh, boneless
1 cup ghee
5 Tbsp ginger, chopped
5 Tbsp green chilli, chopped
3 Tbsp ginger garlic paste
Salt to taste
1 Tbsp turmeric powder
1 1/2 Tbsp cumin powder
2 1/2 Tbsp coriander powder
1 1/2 Tbsp deggi mirch
1 Tbsp yellow chilli powder
1 1/2 Tbsp kasoori methi (dried)
1 1/2 liter chicken stock
1 1/2 cup yoghurt
3/4 cup brown onions
1/2 cup bhunna masala
1 cup fried cashewnut paste
2 Tbsp coriander seeds
3/4 cup green coriander (with roots)
1 Tbsp garam masala powder
1 Tbsp green cardamom powder
1 1/2 cup fresh cream

Method
Clean and trim the chicken.
Heat ghee in a lagan. Add ginger, chili and ginger garlic paste, and fry it.
Add the chicken and saute well till browned.
Add salt, turmeric, cumin powder, coriander powder, deggi mirch, yellow chili, kasoori methi.
Add some chicken stock and cook the mixture.
Remove the chicken, when the mixture dries up and keep warm.
Now, add yoghurt, brown onions, bhunna masala, cashewnut paste, pounded coriander seeds
and coriander roots. Cook till masala leaves oil.
Now add the chicken and chicken stock, and cook on a slow flame till chicken is cooked.
Add garam masala powder and green cardamom powder.
Finish with cream, coriander seeds. Serve hot.