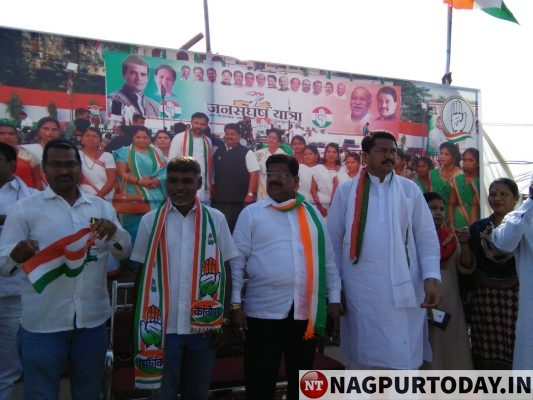 Nagpur: "When I resigned from the BJP after my spat with Prime Minister Narendra Modi, and bye elections were held in my old constituency (Bhandara-Gondia) the ruling party had made it a prestige point to defeat my candidate and elect a BJP man. Not just the Chief Minister, even Modi sent his best team to canvass on his behalf, but still he was defeated. So if victory was mine then, why should I be scared of a Modi Minister?" a combative Nana asks.
He continues "I know for a fact that I am nowhere compared to Gadkari in money power, but then Praful Patel was very moneyed too when I took him on in 2014! Money power does not scare me."
"They call me an outsider (of Nagpur). But when the whole country knows of me after I took on the PM publicly, I have an all India persona… they cannot restrict me to Bhandara or Gondia. Also, Nagpur is a Central city that attracts Indians from 3 neighbouring states apart from rest of Maharashtra, so there is nothing like outsider/local in the minds of people of Nagpur" he states.
"So called Nagpur Vikas – at whose cost?"
Nana points out that the BJP propaganda machine highlights two 'achievements' in Gadkari's name: Metro and cement roads. But have these projects been funded by Central/ State funds or loans? The answer is loans, loans not from Indian banks, but foreign banks. The people of Nagpur are already being taxed heavily to repay the loans; so common people are paying for this 'Vikas' while the credit takers are enjoying the pecuniary benefits of such mega projects". (Nana hints at the pay offs to the Ruling party). "Costly NMC/ NIT lands have been given to Nagpur Metro for development. If tomorrow they cannot repay the loans will these foreign banks take over our NMC lands?"
"NEERI has already warned that all the cementing of Nagpur will raise summer temperatures by 4%, Nagpur is already the hottest city in the country in March! That is another price city people are paying for Vikas. They may take people for fools, but they understand all this…"
"If we have the CM and one important Cabinet Minister from Nagpur, why have more industries not come to MIHAN? Who have they got except for one Ramdev Baba?" Nana states.
Congress candidate Nana Patole is going full throttle in his campaign when he met NT team this morning.
We met up with him at his residence in Rahate Colony. (Nana's family has been living in Nagpur for 15 years now in this house.)
At 7 am, the lobby in front of his house and his living room is already full of Congress workers coming to meet him. Other local Congress leaders like Ved Prakash Arya and Corportor Bunty Shelke are also present. (Vikas Thakre joins later.) Nana emerges out at around 8 a.m.
What are the Nagpur issues he is going to people while asking for votes? we ask.
"People elect representatives to make life easier for them. What has this local body, with BJP at the helm in local, state and central governments done? Water and power, two basic needs are costliest in Nagpur. Many people still do not get water! Property taxes are on the rise…"
"Other primary needs like Health Care and Education have also been neglected. They are closing state run Corporation schools for the land they are sitting on; where should poor people send their children to study? Mayo and Medical are in such bad condition that they have become like 'deathbeds'. Meanwhile where is the AIIMS they promised? A private Cancer Institute has come up – is it with funds granted by the Centre? Then why don't they treat patients free?"
Nana himself asks and answers his questions!
In between he lets us in on the strategy he is using to garner votes. After his padyatras in the morning (From 8.30 a.m. till past noon – yes, in this scorching sun!) he spends the rest of the day meeting key persons from different castes and communities.
"A lot of such groups are with Congress now" Nana affirms. "Even the large Sindhi community is with us." We learn from his karyakartas that he has been meeting leaders of Koshti Halba community, Teli, Dalit, Muslims and his own caste Kunbi. Also business groups like traders, small businessmen, lawyers etc.
"We are attracting educated and common people who are coming to me on their own accord to campaign with us" Bunty Shelke had said while we were waiting for Nana.
(As a woman though I cannot but help notice the complete absence of women in his campaign team.)
Soon, the vehicle we have been driving in reaches the destination near Uppalwadi.
A shamiana has been erected to receive him and people are gathered under it. He does not linger there for even 10 minutes to let people take photographs and garland him before he sets off on foot to the next basti.
His stride is energetic and the equinox brutal sun does not seem to deter him.
Whether he will march to victory in the hustings again only time will tell!
By Sunita Mudaliar, Executive Editor