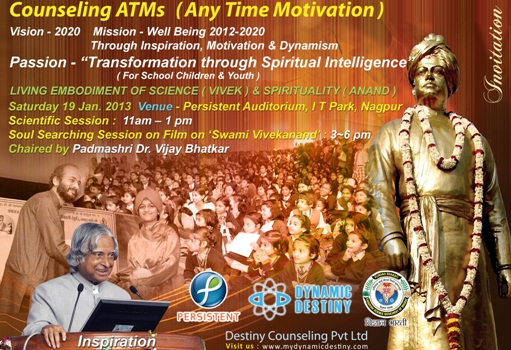 Nagpur News :
Destiney Counseling Pvt.Ltd. jointly with Vigyaan Bharti has organized a two day program to mark the 150th Birthday celebrations of Swami Vivekananda on 19th and 20th of January 2013 at Persistant Auditorium, IT Park, Nagpur. The programme will be graced by Padmashri Dr. Vijay Bhatkar as a main speaker who is also an all India President of Vigyaan Bharti, will guide the youth on "How to Drive their Dreams to Destiny". The other dignitaries who will talk on confluence of Science and Spirituality are Mr. Mukul Kanetkar….. and Dr. C.V. Rao,the senior scientist, NEERI. The programme on 19th will start at 10.30am by Inauguration of the Counseling ATM's, a unique concept of providing a healing touch to the needy wherever and whenever required, it's a brain child of Pratap Guruji, the President of Destiny Counseling.
On 20th January 2013,the registration for the elocution competition on "The Thoughts and Philosophy of Swami Vivekananda" will start at 3pm, followed by a presentation on identifying and understanding our true potential for an ideal career selection through brain mapping . Mr. C.V. Rao will address the gathering on "Swami Vivekananda as a Spiritual Scientist" followed by an address and an interactive session by Dr. Bhatkar. The members of two wheeler and skating rally who rallied from all the way from Kanyakumari to Nagpur on the eve of Swami Vivekananda's 150th birth anniversary will be felicitated. The programme will be wrapped up by a play on Swami Vivekanada's life.
The above information is released through a press note by Pratap Guruji, the President of Destiny Counseling. He has also urged the youths to attend the program. For free entry passes for both days programs visit Destiny counseling's Ramdaspeth office, situated opposite the main gate of Dagadi garden.