Deshmukh breaks fast after Gadkari assures Vidarbha state if BJP comes to power at Centre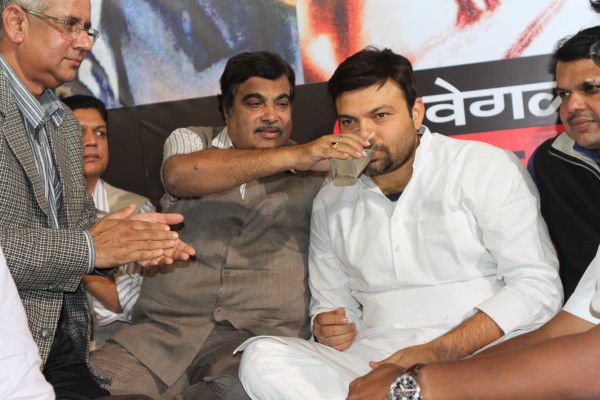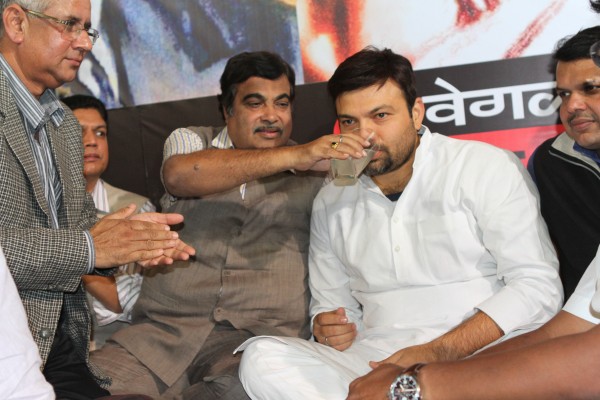 Nagpur News: The youth leader Dr Ashish Deshmukh today ended his indefinite fast, undertaken to press the demand for creation of Vidarbha State, after former BJP National President Nitin Gadkari assured of Vidarbha State if the BJP comes to power at Centre.
Dr Deshmukh had undertaken indefinite fast since December 6 at the premises of Bhaskar Bhavan near MLA Hostel in Civil Lines.
The senior BJP leader Gadkari, who had specially come to Nagpur from Jaipur by a chartered flight, visited the venue and requested Dr Deshmukh to break his fast. "In future, the battle for Vidarbha State has to be fought more intensely and the Bharatiya Janata Party strongly and wholeheartedly supports creation of Vidarbha State. Vidarbha needs a firebrand leader like you and take your fight to the logical end. We are behind you. Not a single Vidarbha leader dared to undergo indefinite fast for 8 days like you did. BJP is in favour of separate Vidarbha. Now break your fast. If BJP comes to power at the Centre, Vidarbha State will be form, I pledge on behalf of BJP. We need youthful leader like you," said Gadkari while appreciating Dr Ashish Deshmukh's courage and wishing him success in future. Dr Deshmukh also respected Gadkari's request and broke his fast by drinking lime water from Gadkari.
The Maharashtra BJP President Devendra Fadnavis also appreciated Dr Deshmukh's efforts for the cause of Vidarbha State. "Vidarbha State is must for change in social and economical situation. Battle for Vidarbha is not over. Outside leaders cannot provide justice to Vidarbha. The BJP will continue Dr Deshmukh's fight ahead and will not rest until Vidarbha State is created. Dr Babasaheb Ambedkar also dreamt of Vidarbha State and the dream will come true under the leadership of Dr Deshmukh. The Leader of Opposition in Vidhan Parishad Vinod Tawde does not belong to Vidarbha still he supported demand for separate Vidarbha and welcomed Dr Deshmukh's agitation," Fadnavis said.
The other dignitaries who were present on the occasion include MLAs Sudhakar Deshmukh, Krishna Khopde, Mayor Anil Sole, Ahmed Kader, Vilas Kale, Mukul Wasnik's father Balasaheb Wasnik, large number of office-bearers of Butibori Manufacturing Association, MIDC Manufacturing Association, Vidarbha Industries Association, Nagpur Chamber of Commerce, VED, and other Associations.
The pioneer of Youth for Vidarbha State and Convener of Vidarbha Joint Action Committee Dr Ashish Deshmukh is fighting for separate Vidarbha since past several months. He undertook indefinite fast for the cause of separate Vidarbha since December 6. His health deteriorated during the fast. Dr Deshmukh thanked the hundreds of personalities who visited him and extended support to him and also for formation of Vidarbha State.