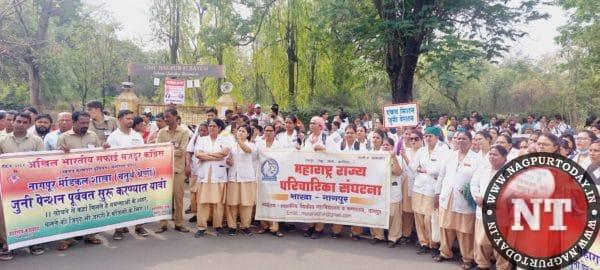 Nagpur: Hundreds of nurses under the Maharashtra State Nurses Association have announced an indefinite strike beginning on Tuesday to demand the restoration of the old pension scheme and other demands. Technicians and class three and four staff have also pledged their support to them, causing a potential disruption of patient care at Indira Gandhi Government Medical College and Hospital (IGGMCH) commonly known as Mayo and Government Medical College and Hospital (GMCH).
As an alternative arrangement, both hospitals have enlisted the help of nursing students and contract staff. However, scheduled surgeries have been postponed due to the ongoing strike. The Maharashtra State Nurses Association held a meeting at the nursing entrance of MCGH on Monday to announce the strike.
Nagpur Branch President Sanyogita Maheshgawli, Joint Secretary Jayashree Sarath, and Zulfi Ali were present at the meeting. Zulfi Ali, the joint secretary of the organization, stated that about 700 to 800 nurses in medical and 300 in Mayo would participate in the strike. Class three and class four employees will also participate in the strike.
Ali mentioned that the dean has been informed about the strike and any inconvenience to the patients would rest with the hospital administration. The strike is expected to cause significant disruptions in patient care and hospital services.
The nurses' demands have not yet been addressed, and they remain committed to their cause until their grievances are addressed. The strike will continue until further notice, and it remains to be seen how the hospitals will manage the situation and negotiate with the nurses' association.