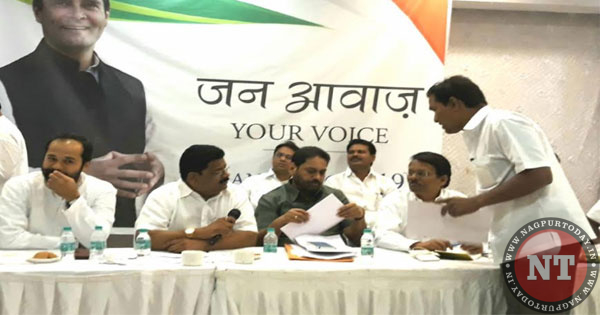 Nagpur: The Bari Samaj, a landless community and whose members earn their living by collecting forest products and also do trading in paan leaves, has submitted a memorandum to Manifesto Committee of Congress party and demanded inclusion of various burning problems being faced by the Samaj. The Manifesto Committee was in city for two days to seek ideas and suggestions of common people and include them in party's poll document.
A delegation of Bari Samaj, led by Chandu Wakodkar, General Secretary of Congress OBC Cell, met the members of Congress Manifesto Committee at Heritage Lawn and submitted the memorandum of demands. The Committee had invited members of SC, ST, OBC communities for seeking their suggestions to be included in the poll document. The Congress Manifesto Committee comprised of AICC member K Raju and President of All India SC Cell Dr Nitin Raut. Present on the occasion were former Guardian Minister Shivajirao Moghe, former Minister Vasant Purke, MPCC OBC Cell President Pramod Morey, Convener Kishore Gajbhiye, City Congress President Vikas Thakre, City OBC Cell President Chandrakant Hinge and others.
The memorandum submitted by Wakodkar demanded 5×5 stalls for Bari Samaj community members on the lines of stalls provided to Gathai kamgars, Mother Dairy labourers so that they can also do paan business at major squares and other suitable places. The population of Bari Samaj is around 1.50 lakh in Nagpur district alone. "Our demand could be met on pilot project basis in Nagpur and if succeeded the 'Nagpur pattern' could be implemented in entire country. Currently, the Bari Samaj youths run 'paan thelas' for livelihood.
Many times the NMC's Enforcement Department demolish their 'paan thelas' putting them to monetary loss and mental stress. Subsidy for paan business and bank loans for farming should also be extended to Bari Samaj members. Most of the Bari Samaj people are landless. A majority of the community are now mainly daily wage labourers. Paan related research should also been done for manufacturing Ayurvedic medicines" Wakodkar demanded.