Dedh Ishqiya : Classy work in massy mix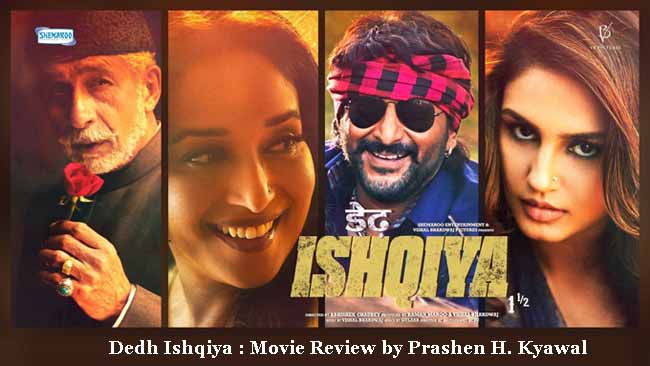 Director: Abhishek Chaubey
Music composed by: Vishal Bharadwaj
Costume design: Payal Saluja
Producers: Raman Maroo, Vishal Bharadwaj
Cast : Madhuri Dixit (Shahi Begum), Huma Qureshi (Munira Aslam Zia), Arshad Warsi (Babban Hussain), Naseeruddin Shah (Khalujaan), Vijay Raaz (Jaan Mohammad)
A movie shall make you positively wonder about the incredible talents of its makers. It shall spellbind you, transcend you beyond limitations of reality or just simply make you happy. Dedh Ishqiya is one such film….. you come out of theatre happily with satisfaction of watching a good movie. A feeling which can only match with the satisfaction one gets after reading a good book.
Vishal Bhardwaj's name will be written in golden words in history of Indian Cinema. After his debut in the film industry as a music director in "Maachis", Vishal is donning many hats and successfully worked as Director, Producer, Writer, Dialog Writer and of course Music Director. Not only that, his affection with literature and quality storytelling bring a different level of sense and sensibilities to Indian cinema. This versatile artist came out with "Ishqiya" in 2010 as Writer, Composer and Producer. Abhishek Chaubey directed the film for him. The same team has now brought to you the sequel "Dedh Ishqiya". They promise that this film will be "dedh guna" better than earlier in every aspect.
In most my reviews, I have to complain about lack of story and bad screenplay. Thanks to the writer Darab Farooqui who came up with a brilliant Story for the loveable characters Khalujan (Naseeruddin Shah) and Babban (Arshad Warsi) in this sequel. Their story continues ahead from last film. They steal an expensive piece of jewellery but while being chased by police, they depart from each other. As the jewellery is with Khalujan, Babban goes post to pole to find him. Finally he sees him as an aspirant attending swayamwar of Begum Para (Madhuri Dixit). After little conflicts, Babban and Khalujan are reconciled. Major reason behind this is the newly Babban's developed interest in Munia (Huma Qureshi) who is companion of the Begum.
Khalu has Jaan Muhammad (Vijay Razz) as his main competitor in the swayamwar. He is also trying to woo the Begum with memorised shayari by Noor Mohammad Italvi (Manoj Pahwa) whom he kidnaps for this same purpose. What happens after this an interesting story with many twists and turns presented with humour.
Vishal Bhardwaj's strong connect and love with literature is reaffirmed with this film. He either creates an adaptation or pays homage to some or other great literary work. A little research about this movie brought to my knowledge that it pays homage to a controversial short story "Lihaaf" written by Ismat Chugtai in 1941. There's also a reference to it in a dialog using the word "Lihaaf". Not only that he uses shayari of DR. Bashir Badr throughout all the mushayara scenes in the movie. So the film is definitely a lavish buffet of literary references and usage by Bhardwaj.
Abhishek Chaubey and Vishal Bhardwaj's Screenplay is taught and fluid. It's not very fast but it matches with the tone and atmosphere of the movie. When a movie is strong on paper and in writing, it always shows on screen. It makes a huge difference in the movie watching experience. It's like a perfectly cooked recipe by a known chef which we can savour with full confidence. With this delicious main course, witty dialogs by Vishal Bhardwaj serves like tangy, spicy side dishes. However, many may find the dialogs difficult to understand even though subtitles are given (I would have preferred subtitles in hindi).
Vishal Bhardwaj seats back and lets Abhishek Chaubey take the reins. And he does not disappoint. There are many moments in the movie where you can say it is a "Director's Scene" which does not happen very often now a days. It is incredible the way he handles conflict sequences. Even in those situations, he fuses the tension and makes audience laugh. Another noticeable thing is he handles different tracks carefully and they all helps get the story forward in a natural flow. Vishal Bhardwaj always sets his film's atmosphere in lawless hindi belt of the nation. Here, Abhishek Chaubey brings like the lukhnawi nawabiyat on screen. Being fully in control as the captain of the ship, he scores full marks.
Still, the film is not as effective as the first one in terms of "kahani me twist". May be because we know the format of the movie now, one can guess what is going to happen so the twists (barring one which takes the film in a different realm) are little less effective. Another front where it lacks than first movie is raw and zany sexuality. However, these are small things which does not mar the experience of the movie.
On the performances side, this film is a treat. With veterans like Naseeruddin Shah, diva like Madhuri Dixit , master of comic timing and dialogue delivery Arshad Warsi, powerful actor like Vijay Raaz on board, Dedh Ishqiya is like a demonstration of master acting. All these 4 actors give top notch performance. Madhuri is so gelled in the movie that she looks like she is living Begum Para. Watch out the scene where Muniya comes and hugs her from behind and Begum senses something different in her. The nuances shown by each actors are marvellous. Matching with these actors, others like Huma Qureshi, Manoj Pahwa, Salman Shahid (Mushtaq), Bhakti Deshpande (as young Begum Para), Fareed Ahmed (as Rafiq), Ravi Gossain (as Liyaqat), John Vijay (as the police officer), etc also deliver excellent work. Even unknown actors (notice the tailor and his hakim father) in small roles leave impression on audience. Honey Trehan must be applauded for his work as Casting Director. This is film deserves a full star for performances only.
Editing by A. Shreekar Prasad is on the spot. Cinematography by Satyajit Pande along with Production design by Subrata Chakraborty and Amit Ray is successful in creating both the rustic rural atmosphere and falling nawabi ambience. It sets the mood of the films and transports the audience into the story. Music by Vishal Bhardwaj is not as good as earlier film still "Hamari Atariya Pe" is doing well in charts. In a Madhuri film, one can not skip a mention for choreography. Choreography by Pt. Birju Maharaj's choreography in the 'Jagaave saari raina' song and Remo D'souza's in the 'Humri atariya' is excellent.
On the whole, Dedh Ishqiya is a case where the sequel is better than first film. It is fine wine and delicate cuisine served finesse and style. It needs to be savoured in same way.

Recommendation : Highly recommended for lovers of quality cinema who love nuanced performances, strong writing, intelligent direction and overall satisfaction of watching a good film. If you look for these kind of things in cinema, go for it. It's humorous, entertaining and satiating otherwise too. Do watch this film.