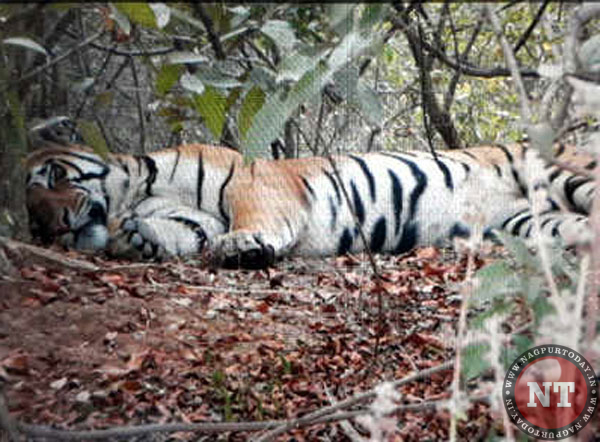 Nagpur: In a worrying development, a tiger was found dead near Motha village of Chikhaldara Tehsil in Amravati district on Saturday morning. The exact cause of the tiger's death could not be ascertained immediately. Earlier this week, two tigers died of suspected poisoning between Sunday and Monday in the Pauni range in the periphery of Umred-Karhandla-Paoni Wildlife Sanctuary in Nagpur district. A half-eaten carcass of a wild pig was found near one of the tigers, raising the Forest Department's suspicion that it may have been a poisoned bait.
Wildlife activists were aghast and expressed concerns over suspicious deaths of tigers within days. The tiger was found dead in Chikhaldara Forest Range of Amravati district. Villagers of Motha spotted the carcass of tiger at some distance from the village on Saturday morning. Villagers alerted the Forest Department officials who in turn rushed to the spot immediately. No injury marks were found on the carcass of the tiger triggering suspicion over the exact cause of death. In 2016, two tigers were hunted in Melghat. Now the finding of one more carcass of tiger has created ripples. Forest officials immediately launched investigations. The carcass has been sent for post mortem and officials will soon come out with exact cause of the tiger's death, sources said.
Spread across 189.30 sqkm area of dense forests, Umred-Karhandla Wildlife Sanctuary is home to 11 to 15 tigers. On Sunday, the carcass of a dominant male tiger T16, also known as Charger, aged seven, was found in compartment No. 226, Chichgaon beat, Paoni range in Bhandara district, about 70 km from Nagpur, after local tourists spotted the body around 8 am and informed the Forest Department. Investigation found no injury marks on the body. On Monday, when Forest officials were surveying the area around 10.30am, they found carcass of another tiger, identified as T4, also known as Rai, less than a kilometre away. The 7-year-old tigress' body was found in compartment number 226 in Chichgaon beat of Paoni range. The wild beast had been called the 'Queen of Paoni' as she was one of the dominant females who gave birth to three cubs – Raja, Pawan and Mala. Forest officers said the two deaths might have taken place at the same time.
Along with the dead tigress, the Forest officials found a semi-eaten carcass of a wild pig near the second carcass. Prima facie, it seemed the wild pig was poisoned, killed and left out as bait.