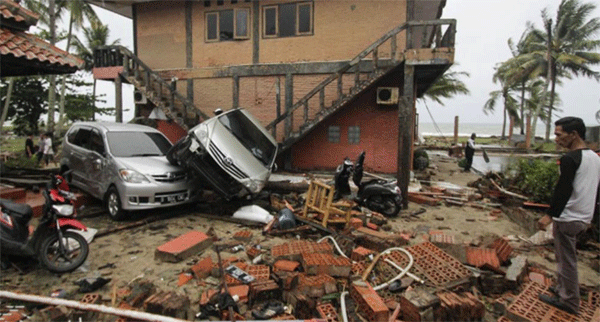 A volcano-triggered tsunami has left 281 people dead and hundreds more injured after slamming without warning into beaches around Indonesia's Sunda Strait, officials said Sunday, voicing fears that the toll would rise further.
Hundreds of buildings were destroyed by the wave, which hit the coast of southern Sumatra and the western tip of Java, on Saturday after a volcano known as the "child" of Krakatoa erupted, national disaster agency spokesman Sutopo Purwo Nugroho said.
Tsunamis triggered by volcanic eruptions are relatively rare, caused by the sudden displacement of water or "slope failure," according to the International Tsunami Information Centre.
The International Federation of Red Cross and Red Crescent Societies said the "powerful waves" reached a height of 30-90 centimetres (1-3 feet).
US President Donald Trump was among world leaders to offer messages of support after the "unthinkable devastation" of Saturday's tsunami.
"We are praying for recovery and healing," he tweeted. "America is with you!" The UN and European Union both pledged to mobilise humanitarian support if requested by Jakarta.
"The United Nations stands ready to support the ongoing government-led rescue and relief efforts," a spokesman for UN Secretary-General Antonio Guterres said in a statement.
Anak Krakatoa, which forms a small island in the Sunda Strait between Java and Sumatra, emerged around 1928 in the crater left by Krakatoa, whose massive eruption in 1883 killed at least 36,000 people and affected global weather patterns for years.