DCP Kadam, who is transferred to Pune, leaves a lasting impression in Nagpur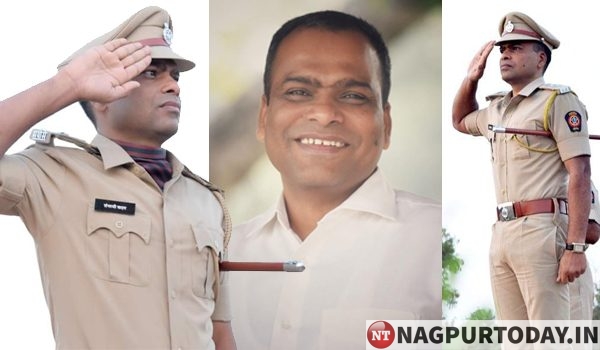 Nagpur: Deputy Commissioner of Police (DCP), Crime Branch, Sambhaji Kadam, who has now been transferred to Pune, has left a lasting impression in the Second Capital City of Nagpur. The DCP proved his mettle by crushing the crime with heavy hand and adroit handling as well during his stint as DCP Crime in city.
While serving as DCP Crime Branch, Kadam had brought about some revolutionary changes in the department with his no-nonsense attitude. In police department, every officer maintains a bunch of 'trusted lieutenants'. However, DCP Kadam's style was different. He rewarded or fired anyone depending upon end result of a task. That's what his subordinates talked about him. Many 'old guards' in the Crime Branch were shown the door when he learnt about their unholy nexus with criminals. He delivered what he promised with aplomb.
Illustrious career:
Sambhaji Kadam served as SDPO Baramati from 2013 to 2015. He got promoted as Superintendent of Police in December 2015 and was posted as Principal of Police Training School, Jalna. Soon, he was transferred to Nagpur as DCP Zone III in January 2017 and became DCP, Crime Branch in May 2017. In March 2010, when Kadam was posted as SDPO of Beed City, a woman officer in defence services was looted and gang-raped by dacoits when she was travelling to Pune from Parali Vaijanath with her family in a car. She was left naked on a lonely road. The then SP of Beed district had assigned the task of investigation to Kadam even though it was not under his jurisdiction. Within 24 hours, Kadam cracked the case and arrested five members of Jawale gang involved in the heinous crime. He then invoked MCOCA against the accused and prepared a chargesheet. The dreaded goons twice tried to escape from the Harsul jail but failed. The court convicted them in the MCOCA and slapped a fine of Rs 40 lakh.
When DCP Kadam took reins of Crime Branch, an array of challenges lay ahead of him. As a first task, he undertook massive transfers and threw away a bunch of personnel, who were attached to Crime Branch for many years. With new teams and new pattern of Zone-wise units, Crime Branch has been largely successful in cracking whip against anti-social elements. Kadam also headed Special Investigation Team (SIT) constituted against land mafia. Hundreds of matters of land frauds were solved by the SIT putting many gangsters and land-mafia behind bars. The Crime Branch has detected 1,203 crimes and arrested 1,985 accused involved in murders, dacoity, robbery, vehicles thefts, drug rackets, gambling in the year 2018 against 1,068 solved cases and 1,543 persons in the year 2017.
Highlights of DCP Kadam's stint:
• First posting in city as DCP Zone 3 on January 11, 2017. In the three months of this stint, MCOCA was slapped on two dreaded gangs involved in a series of serious crimes. NMC elections were a challenge but he handled it well. Left no stone unturned for peaceful Ram Navami celebration and shobhayatra. DCP Kadam hit the streets personally and ensured Holi revelry was without untoward incident. After serving Zone 3, the then Commissioner of Police brought Kadam at the helm of Crime Branch on May 1, 2017.
• Sambhaji Kadam was junior most official in DCP-level officials. Posting in Crime Branch was a challenge in a city like Nagpur. He was in focus all the time.
• Soon after taking the charge, DCP Kadam started the cleansing act and got rid of lacunae. Working in Crime Branch got streamlined with a number of initiatives at the behest of DCP Kadam.
• Soon crime chart in city started nose diving as cases of murders, chain-snatching, robberies, looting, kidnapping declined in good measure.
• The Anti-Narcotics Cell of Crime Branch played a pivotal role in making the city narcotics free to a large extent. Within two years, over 250 drug-peddlers were rounded up and sent behind the bars. Narcotics stuff worth over Rs 5 crore was confiscated. Many gangs met their nemesis. Hookah parlours and hookah centres faced unprecedented crackdown.
• Setting up of SIT curbed nefarious activities of land mafia. Over 800 plots grabbed by the lan sharks were returned to the rightful owners. Around 40 cases were registered and two gangs were slapped with stringent MCOCA. Crime Branch played a crucial role in cracking the whip on ponzi schemes. Many duped investors got back an amount to the tune of Rs 3 crore. Crackdown continues.
• The Social Security Wing of the Crime Branch busted sex rackets being operated slyly in city. Pimps and sex workers faced action in a hard way. Flesh trade being run in posh residential areas and 5-star hotels were exposed. Even foreign sex workers were put behind bars. Online sex rackets were busted and the white-collared clients and dalals were rounded up.
• 36 hardcore criminals faced action under MPDA in city in 2017, the most in Maharashtra. In 2018, 17 goons faced MPDA action.
• DCP Crime handles Unit 1 to Unit 5, CCTNS, Dog Squad, MOB, SSB, Reader Branch, Finger Print Department, Missing Squad, Bharosa Cell, Buddy Cops, Legal Cell, Damini Pathak, High Court Cell, Nodal Officers, NDPS Cell, MPDA Cell. DCP Sambhaji Kadam handled all these departments adroitly. The DCP is a contented man albeit with some regrets. A murder in MIDC has not been detected, no clues in kidnapping of Kamptee's Sujal Wasnik, no clues in missing case of Adv Dhawad couple. Even after painstaking efforts, success eluded this police officer. And he regrets it.
– By Ravikant Kamble