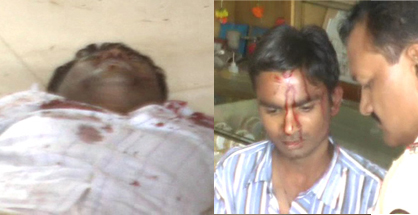 Nagpur Crime News: Vijay Pandurag Thawkar, owner of Thawkar Jewelers was today murdered in broad daylight in his own shop. 4 assailant were aboard a Maruti car out of which 3 got down and barged into the jewelry store. Pointing the gun towards Vijay, the assailant asked him to hand over all the jewelry in the shop. Thinking about losing all the hard earned money, Vijay protested. Following this, the culprits fired bullet after bullet on Vijay out of which two bullets hit Vijay. Once bullet went through his head. He immediately died on the spot. The helper working in the shop also tried stopping the robbers. The robbers then hit helper on his head with a gun and fled immediately.
It has also come to light that the Maruti vehicle used to shunt the accused was actually from Sonegaon area. Car owner Chawre had also filed a report with the Sonegaon Police Station. This means that the robbery was well planned. Hudkeshwar Police is currently investigating the incident.
Nagpur Today spoke to the President of the Nagpur Jewelers Association in reference to this incident. He said that he along with other members of the association visited the scene of crime and also met the Commissioner of Police. The association has demanded capture of the culprits within 48 hours failing which the future course of action will be decided at the association's meeting scheduled to be held on Monday.
Nagpur Today also spoke to Manu Kumar Soni, Vice President of Jewelers Association on this incident. He said that the Jewelers Association have spoken to the Police Commissioner and  warned that they would go on a strike if the culprits are not caught soon. The assoication would meet on Monday to decide the future course of action in this regard.
Vijay Thaukar the deceased is the brother of Raman Thaukar who is the General Secretary of NCP. Nagpur Today spoke to Ajay Patil the city President of NCP. He said that Vijay Thaukar tried to stop the robbers and was killed in the process. This incident puts a question mark on the Law & Order situation of the city. His life cannot come back but the culprits should at least be booked. If the culprits are not caught within 48 hours, the NCP will take to the streets.