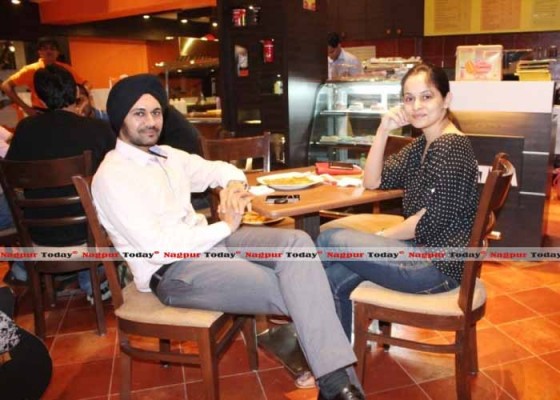 Carrying on with our series of gossips, chatters and mouthful of discussions overheard at famous joints in Nagpur, today let's sneak into a new café lounge near Dharampeth Science College in Nagpur. Here's what we encountered…
 (Table 1: Abhilash Sharma, Alok Agrawal, Gidhnesh Muneshwar and Saurabh Taori)
One of the tables was occupied by a think tank of mates that ended up hanging out just casually on some spot plan. This bunch of guys was meeting after long time as each of them got recently through with their studies and are fresh employees serving different companies.  While trying to overhear their conversation, we realized they were discussing about the current market scenario…. boring! But out of somewhere, one of them just mentioned about a girl who caught his glance while entering, and that she was an old friend! Further, the conversations included gossips over food, about food. They had ordered Lattes and a Corn sandwich, which was just ok they mentioned.
(Table 2: Chinmay Pathak, Tanishq Diddee, Tirath Singh Puni, Manmohan Singh Puni.)
This group of fresh college guys discussed about the peer pressures related to placement scenario in various colleges, and that 'Hamara Kya Hoga!' To our surprise, they were laughing after a while, when I realized one of the Sardar friends narrated an incident about a girl asking for 'Kachoris' and their college coffee outlet. Funny indeed!
(Table 3: Ranit Kaur and SJ Singh)
After having noticed these procrastinated minds, a young couple grabbed our sight and interest. We would willingly mention that the two were sweet, subtle, and charming as couples. I tried overhearing their conversation, but this silent couple was away from the regular gossips and was visibly here to spend a quiet evening together. My curiosity made me take the risk of disturbing them and I approached them to let me join them for a minute. The pretty lady started off the conversation with me and let me know that they were just observing the people around. They seemed to like the place and would prefer to come again. Not to forget, both of them had mentioned about the delicious pasta and sandwich that they ordered.
Not trying to dig the conversations further, I concluded the session expecting that coincidentally bumping into people conversations shall be something much more interesting at the next hangout!
PICS BY: Vinay Thorat