Nagpur News: The NMC's "My City Clean City and Beautiful City" Campaign on Thursdaycovered Rashtrasant Tukdoji Cancer Hospital and Research Centre, Dr Ambedkar College and VMV College.
Thursday was the second of the nine-day cleanliness campaign and it started from the Cancer Hospital from where a large quantity of waste material and garbage was collected by the NMC employees, NGOs, Mahila Bachat Gat, Anganwadi Sevikas, students and citizens. The Hospital and its premises were cleaned from one corner to other including wards of the hospital.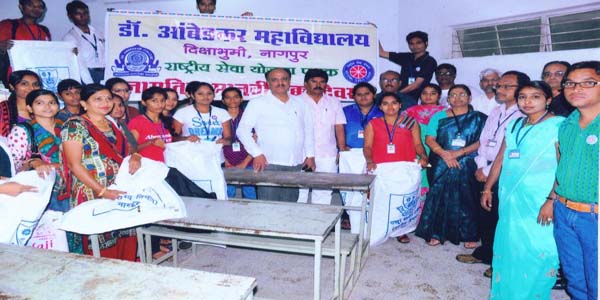 Those present on the occasion include Health Committee Chairman Ramesh Shingare, Hanuman Nagar Zone Chairman Raju Nagulwar, Carporators Kishore Gajbhiye, Bandu Talvekar, Joint Secretary of Cancer Relief Society Ashok Kruplani, Treasurer Avatram Chawla, Hospital Director Dr Santosh Kakde, Superintendent Dr Anjali Kolhe, Assistant Commissioner Vijay Humne, Medical Officer Dr Ashok Urkude, Veterinary Officer Dr Gajendra Mahalle and others.
DR AMBEDKAR COLLEGE:
The Campaign then moved to Dr Babasaheb Ambedkar College at Deekshabhumi. The girl students in large number gathered garbage from the classes and other areas of the College in large quantity and brought it in the open. The garbage then was collected by the NMC employees and loaded into the waiting NMC vehicles. The Mayor expressed his happiness after finding excitement among the student to maintain the college neat and clean.
Those present on the occasion include College Principal Dr K M Reddy, Vice-Principal Dr A P Joshi, Vice-Principal Dr Prakash Kharat, Dr V M Chopde, Prof A M Pounikar and Prof K Putewar.
VMV COLLEGE:
The Wardhaman Nagar-based VMV College was the last stop of the Campaign on Thursday. Hundreds of students, College employees responded to the Campaign and cleaned the College itself, playground and premises. The large participation by the students and others pleased the Mayor who thanked them for participating in the campaign and asked them to maintain the cleanliness every day. The collected garbage is being uploaded into the vehicles of Kanak Resources Management. The co-ordination is being done by Project Manager Kamalesh Sharma.