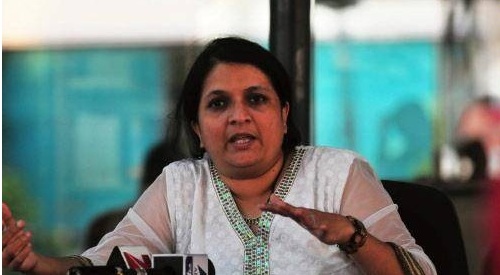 Nagpur Today.
Anajali Damaniya, regional convenor of AAP today issued a very controversial statement that even underworld don Dawood and likes of Arun Gawali can also become members of Aam  Adami Party. She said that all are welcome in her party.
She said that the gangsters will not be made leaders but we shall try to improve them she claimed.
She was talking at 'Meet the Press' arranged by Nagpur Union of Working Journalists. She said the list of candidates for Lok Sabha elections for Maharashtra will be finalised in a week's period. At present we are trying to judge the likely candidates. A review committee is also organised for this. Persons who believe in the party ideology and who have clean public image will be our candidates. Thus we have become a direct threat to the existing political parties and this is the reason we have to face criticism and accusations from various quarters. People now have very high expectations from the party. It is not possible to meet all the expectations of all the people and so there some disappointment in the minds of people, she accepted on the occasion. The Congress rule has come to an end in Delhi and so BJP will be our main opponent in coming Lok Sabha elections she said.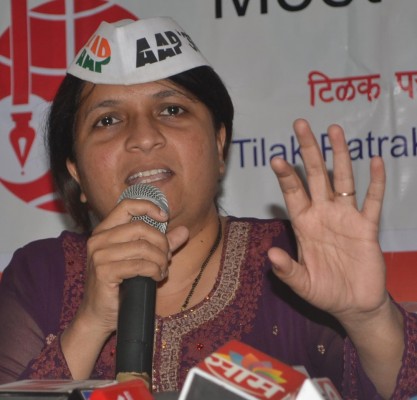 Change of guard is certain in Lok Sabha elections. We have shown that common and good people can also change the country. The voters should not only look to a fine face but look behind the face for intelligence and intention at the time of casting vote.
She further said that it will be our endeavour to turn a leader into common man which he is and not to convert candidate into a leader.
She informed that the party is in touch with Medha Patkar. The announcement of her entry into the party is likely on Monday. Damaniya said that well known farmer leader from Wardha, Vijay Jawandhiya will also be invited for Lok Sabha polls.
She also informed that the candidates' list of the party will be made public in a week's span.
Clarification on Anjali Damania's remark
Any citizen of India who has not been convicted of a crime involving moral turpitude is welcome to join the Aam Aadmi Party as an ordinary/primary member. There is no pre-screening process in place to exclude such people of our big population who are joining the party. However as soon as any information of this nature is brought to our notice, the party will take immediate action to cancel the membership of such individuals.
The standards of honesty and probity expected from individuals who aspire to the positions of leadership or responsibility are much higher.
This stand was clarified by Anjali Damaniya to members of the electronic media just after the conclusion of event. However as not all members of the media were present at this time, we are issuing this clarificatory statement informed Girish Nandgaonkar, the spokesperson of Aam Adami Party.
….. Rajeev Kushwaha ( mail to : rajeev.nagpurtoday@gmail.com)