The war of words between Ruling Party Leader in NMC Pravin Datke and the Opposition Leader Vikas Thakre is the fallout of the fare hike by Star Bus without discussion in the General Body Meeting of the NMC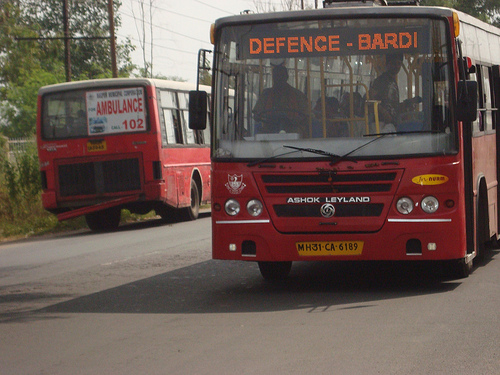 Nagpur News: The Ruling Party Leader in NMC, Pravin Datke, in a veiled threat, has asked the Opposition Leader Vikas Thakre to either withdraw his charges against the Mayor or face an imminent legal notice from the Mayor Anil Sole on Monday.
The Ruling Party Leader said, "Vikas Thakre, being a former Mayor, should not have leveled baseless charges against the Mayor Anil Sole on the fare hike by the Star Bus company. Everybody knows that Vikas Thakre is in the habit of leveling charges, countercharges. We are also not afraid of Vikas Thakre's threats. We are ready to discuss the Star Bus issue not only in General Body Meeting but in any forum. If Vikas Thakre wants the issue investigated then he should do it from any State Government or Central Government agency. As far as the issue of Star Bus operator Vansh Nimay Infraprojects is concerned, it will be decided in House. Till then, the Star Bus services would not be stopped. One thing is certain. Whenever the MSRTC increases fares, the Star Bus would also hike fares. If the services of Star Bus are stopped, it will result in untold suffering, financially and physically to thousands of villagers and students. The Ruling Party in NMC is planning an alternative to Star Bus. The Ruling Party has put pressure on Star Bus to improve condition of buses. A land has been made available for workshop. It has been decided to stall fare hike till the discussion in the House," the Ruling Party Leader Pravin Datke said.
All this exercise of defence on the part of the Ruling Party is the fallout of the Opposition Leader Vikas Thakre charge against the Mayor Anil Sole of playing smartly while letting the Star bus operating company Vansh Nimay Infraprojects to work on its whims and increase the fares. Thakre had also warned of stern agitation if the hike is not called off within a week. Reacting sharply over Thakre's comments Mayor Anil Sole has on Wednesday asked Thakre to take back his allegations within 7 days else he would file defamation suit against Thakre.