Nagpur: The Second Capital City of Nagpur was on Friday put on the world aviation map as Eric Trappier, Chairman of Dassault Aviation and Anil Ambani, Chairman of Reliance Group laid the foundation stone for the Dassault Reliance Aerospace Park (DRAL) manufacturing facility at Mihan in Nagpur.
The foundation stone was laid in the presence of Florence Parly, Minister of Armed Forces of French Republic, Chief Minister Devendra Fadnavis, Union Minister Nitin Gadkari, Ambassador of France to India Alexandre Ziegler, and over 200 dignitaries from Maharashtra and city administration.
The Dassault-Reliance manufacturing facility Dhirubhai Ambani Aerospace Park (DAAP) at the Multimodal International Hub Airport at Nagpur (MIHAN) SEZ will manufacture several components of the offset obligation connected to the purchase of 36 Rafale Fighters from France, signed between the two governments in September 2016.

The Rs 6500 crore joint venture will create state-of-the-art integrated ecostructure to execute the Rs 30,000 crore offset programme linked to the sale of 36 Rafale fighter jets by Dassualt Aviation to India. The DRAL facility will train thousands of skilled workers in aviation assembly and integration and lead to huge employment generation in Nagpur and its surrounding areas. It will also attract and house an organic ecosystem of over 200 MSMEs to secure the component and avionics manufacturing needs of Rafale and Falcon jets.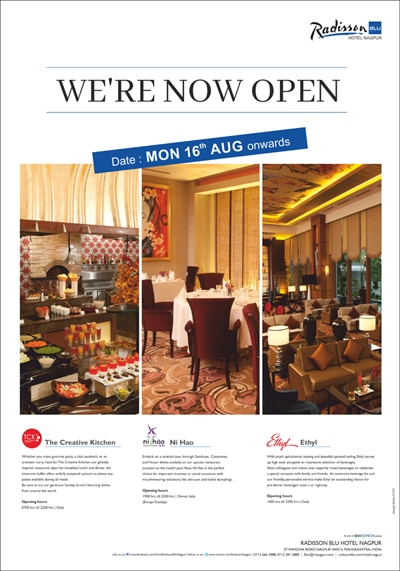 Spread over 289 acres, DAAP is being touted as the largest greenfield aerospace project in India and will have assembly lines and manufacturing facilities for fixed wing aircraft, and produce aircraft components for global markets.
Dassault Aviation Chairman Eric Trappier declared that "this foundation stone laying demonstrates Dassault's firm commitment to implementing Prime Minister Modi's 'Make in India' programme."
Reliance Group Chairman Anil Ambani said, "This facility in Mihan, Nagpur, within the Aerospace Park named after my late father Dhirubhai Ambani could not have happened without the strong and consistent support of Nitin Gadkari and Devendra Fadnavis. The Reliance Dassault partnership will bring high levels of technology transfer. It will make India a major supplier into the global aviation supply chain."

Many Indian MSMEs are also expected to set up facilities at DAAP. The Dassault Reliance JV has already shortlisted large number of vendors, mostly small-and medium-size enterprises, to be part of the supply chain at DAAP.
Company sources said the production will start in the first quarter of 2018 at DAAP, being set up with an investment of Rs 6,500 crore.
Reliance Infra-promoted Reliance Aerostructure Ltd (RAL) will have 51 per cent shareholding in the JV while Dassault Aviation (DA) will hold 49 per cent. The first batch of managers for DRAL started their training in France in May this year and will be back in December.
Once fully operational, DRAL will generate more than 700 direct jobs, 5,000 high skilled jobs at DAAP and more than 15,000 secondary jobs. Production at Reliance Aerostructure's unit at Mihan-SEZ is planned to begin in the first quarter of 2018. Construction of the unit would start by end of the month.
The first phase of development will be spread over 104 acres and the second phase will cover an additional area of 185 acres. At present the company has been allotted 104 acres with the rest to be taken up later.
The proposed projects in the first phase include production of aircraft, electronic warfare systems, radars, unmanned aerial vehicles (UAVs), maintenance repair and overhaul (MRO) for commercial aircraft. The park will also be home to the largest defence sector foreign direct investment (FDI) in the country. Apart from the Dassault-Reliance offset facility, the park will also be home to the proposed facilities of Thales, Daher and Strata, among others.
Maharashtra Airport Development Company (MADC) is the nodal agency for developing the aerospace park.
BACKGROUND FOR DAAP, MIHAN SEZ NAGPUR
The Dhirubhai Ambani Aerospace Park at MIHAN, spread over 289 acres, will be the largest Greenfield Aerospace Park in the country with capital investment of over Rs 6,500 cr.
The project is being developed in two phases; in Phase I, development will be spread over 104 acres, while Phase II will see an additional area of 185 acres being covered.
The Aerospace Park will be home to the Dassault Reliance Aerospace Limited – a 51:49 Joint Venture of Reliance Aerostructure and Dassault Aviation
Dassault Reliance Aerospace Limited (DRAL) ​ will be the lead project for executing Rafale offset program. The Reliance Dassault partnership will bring in not only high level Transfer of Technology but also help develop the eco-system of the domestic aerospace sector and feed into the global supply chain.
The execution of this offset clause will also bring in the largest FDI in the defense sector till date. This is the largest offset contract in the history of India, ever.
The site in Mihan was selected after an extensive survey different sites across various states. Mihan was selected over other sites because of its world class facilities and infrastructure like Medi city, availability of top class managers; due to its proximity to IIM, disciplined work culture, Airfield and Air Space for Flight Tests, proximity to international airport, excellent telecommunications connectivity and social infrastructure among others.
In the Dhirubhai Ambani Aerospace Park, Reliance Group will set up Assembly lines and manufacturing facilities of fixed wing aircrafts, aerostructure for commercial transport aircraft, Helicopters for both defence and commercial use.
DAAP will also develop cluster of SBUs with Tier I, II and III supply chain and other sub assembly lines.
The park will also house ancillary and component manufacturing units to support after sales requirement.
The Reliance Group will add immense value to Mihan through its Aerospace Park in the form of job creation and skill development.
DAAP will help generate more than 700 direct jobs . Total number of high skilled jobs to exceed 5000 with more than 15000 secondary jobs.
As part of eco-system to support various upcoming projects, more than 200 Indian MSMEs are expected to set up facilities at DAAP.
The group also has plans to set up world class Centre of Excellence for Design Technology and Manufacturing
DAAP to be developed on the lines of Smart City layout.
DAAP will offer One Stop Hub for all the Aerospace requirements.
Apart from Indian MSMEs, Global OEMs in Defence and Aerospace platforms and components will set shop in DAAP.
DAAP will put Nagpur on the Global map in Defence production.
Phase 1 production at DAAP is expected to start in 2018.
– RAJEEV RANJAN KUSHWAHA