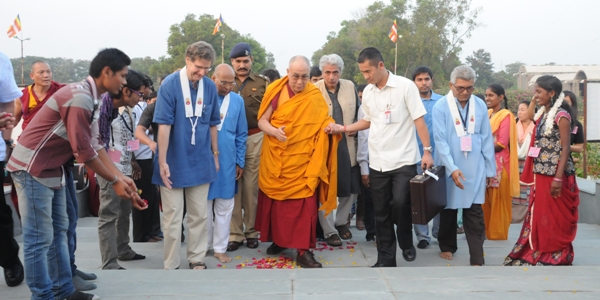 Nagpur News.
His Holiness Dalai Lama who is in Vidarbha for two days, arrived from Himachal via Mumbai to Nagpur in a chartered plane on January 8, 2014. He landed at Nagpur Airport at 16:35 and proceeded to Naglok situated on Kamptee Road around twenty kilometers from the city.
At Indora Square, some of the Buddhists followers gathered to felicitate him. They had intended to stop the motorcade. The Z+ security with NSG Commandos did not allow the motorcade to be stopped at the busy Indora Square. The school children and many followers welcomed him to the Orange City with Rose petals. His Holiness Dalai Lama waved from within the Bullet Proof Range Rover he was riding in. Many Tibetan Monks are accompanying him during his visit to the city.
His Holiness Dalai Lama will rest tonight at Naglok tonight and will be delivering his sermon from 8:30 am on January 9, 2014. He will be proceeding for Bhandara at 4 pm on January 9, 2014. On January 11 and 12, 2014, a Mahapuja is scheduled to be held at Gotangaon near Gondia. On January 13, 2014 he will be going to Raipur.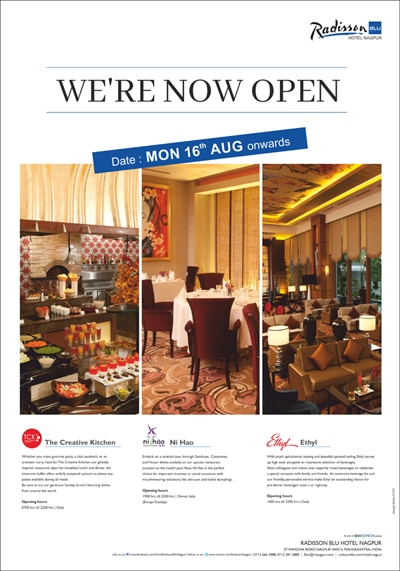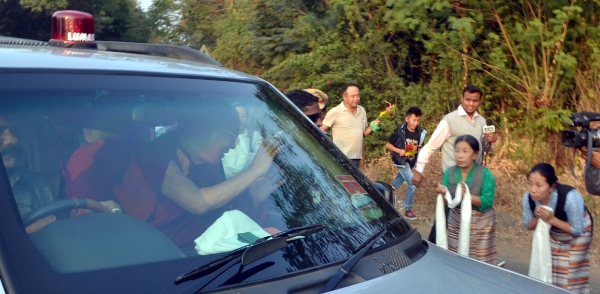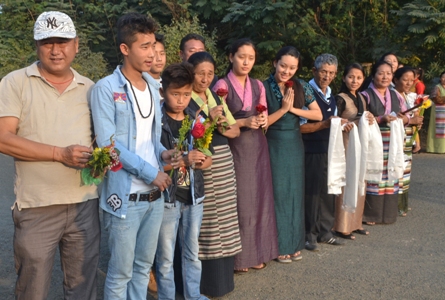 A delegation of all Budhist Organisations in the city will be meeting His Holiness Dalai Lama at 8:30 pm to request him to come to Deeksha Bhoomi. During his visit to Deeksha Bhoomi, he may meet the press. 
About His Holiness Dalai Lama
His Holiness Dalai Lama is a high lama in the Gelug or "yellow Hat" school of Tibetan Buddhism, founded by Tsongkhapa (1357–1419). The name is a combination of the Mongolic word dalai meaning "ocean" and the Tibetan word (bla-ma) meaning "guru, teacher, mentor". Tibetan Buddhist doctrine says that the Dalai Lama is the rebirth in a line of tulkus who are considered to be manifestations of the bodhisattva of compassion, Avalokiteśvara. The 14th Dalai Lama remained the head of state for the Central Tibetan Administration ("Tibetan government in exile") until his retirement on March 14, 2011.