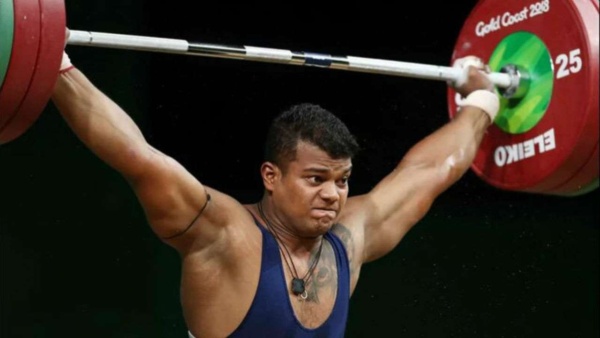 Gold Coast: Indian weightlifters continued their highly impressive medal-winning performances in the ongoing 2018 Commonwealth Games as Venkat Rahul Ragala clinched a gold medal in the men's 85 kg category on Day Three of the quadrennial event here on Saturday.
The 21-year-old from Andhra Pradesh lifted 151 kg in snatch and 187 kg in the clean and jerk category to finish with a total of 338 kg to make the country proud.
Ragala was not at his menacing best, having missed his final attempt of 191 kg in the clean and jerk category in the finals of the men's 85 kg category.
However, Samoa's Don Opeloge too missed his final attempt of 190 Kg to finish with the total lift of 331 kg and settled with a silver medal.
Malaysia's Muhamad Fazrul Azrie Mohdad bagged the Bronze after lifting a total of 328 kg.
In snatch, Ragala begun with the first attempt of 147 kg before his second attempt of 151 kg was unsuccessful. He then bounced back strongly to lift 151 kg in his final attempt.
Meanwhile, Ragala lifted 182 kg in her first attempt at clean and jerk, following it with a lift of 187 kg before missing the third attempt of 191 kg.
With the win, Ragala handed India its fourth gold medal at the ongoing Commonwealth Games. He further became the first countryman to bag gold in the 85 kg category.
Meanwhile, his win takes India's total medal tally to six, including three golds, one silver and one bronze medal, all in weightlifting.
Earlier in the day, Sathish Kumar Sivalingam successfully lifted 173 kg in his second clean and jerk attempt to bring India men's 77 kg weight category.
He lifted a total of 317 kg to beat England's Jack Oliver, in what was a close fight.