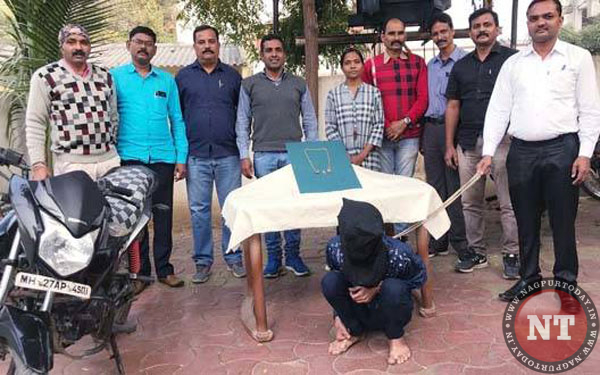 Nagpur: In what can be said as a big catch to crack down on increasing incidents of chain snatching, a team of Crime Branch has managed to nab a master chain-snatcher who was allegedly involved in 21 such cases in Nagpur, Amravati, Akola and Jalgaon. His last prey was an elderly woman in Shivaji Nagar on Sunday evening
The accused has been identified as Bharat Gurdasmal Waswani (34), a resident of Sindhu Colony, Frejarpur, Amravati. He was living in a rented accommodation in Wadi since December last.
Waswani on Sunday robbed Raghunandini Sundaram Ranjan, a resident of Plot No. 59, Shivaji Nagar when she was on evening walk near Shivaji Nagar garden at 5.15 pm. He came on a motorcycle and snatched her gold chain. Before the woman could raise an alarm, Waswani sped away from the spot on the motorcycle.
Staff of Ambazari Police Station and Crime Branch teams rushed to the spot and started investigation after registering the case under Sections 379 of the Indian Penal Code. Police, on studying CCTV footage, identified the motorcyclist, Bharat Waswani.
Acting on a tip-off, a team of Crime Branch traced location of Waswani and arrested him from Wadi.Policerecoveredstolengold chainsanda motorcyclefromhis possession. He would be produced in the court on Tuesday.