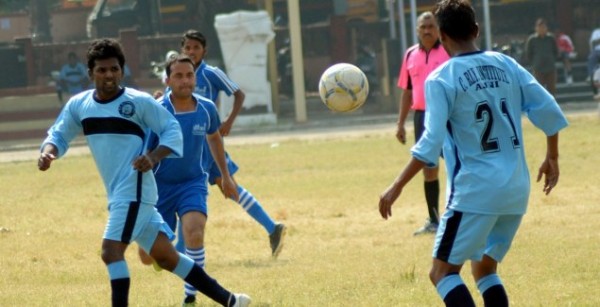 Nagpur Today.
Central Railway Institute beat GNIT 2-1, in the ongoing Meghe First Division League, played at Police Takli ground on November 11, 2013.
In the 32nd min of the first match, Shahbaz Sheikh of Central Railway Institute drew the first blood and Rigon Simon found the net in the 35th min where as Mouzammil of GNIT earned a lone goal in the 60th min. Also, red card was shown to Sharique Kamal In the 19th min by referee to signify that he has been sent off.
In another one-sided game, Taj Sporting drubbed Star Sporting scoring 4-0. Kalimul Haque netted two goals in the 17th & 27th min and Kalim Khan in the 69th & 89th min. Shubham bongiri of Taj Sporting was penalized in the13th min an Waron Paul of Star Sporting was penalized in the 20th min by match referee for their unsporting behaviour.
Similarly, Pats FC blanked Martin Nagar 3-1, in ongoing Jawaharlal Darda Memorial Second Division Football Tournament organised by Nagpur District Football Association (NDFA) in association with Lokmat Media Pv. Ltd. at Central Raiwlay Ajni ground on November 11, 2013.
Pats FC had an advantage right from the word go. In the 2nd minute Rohit Patil drew the first blood.
Moreover, within fifteen minutes, Hitesh Lengule netted the 2nd goal. After a change of ends, Rupesh struck the goal and increased the lead 3-1 wherein Malcon Swami of Martin Nagar scored only a lone goal in the 28th min.In the 60th minute, Rohit Tiwari received the red card by match referee.
In another tie, Birsa Munda downed Hill Top 1-0. Nitish Rautel (60th min) was the goal scorer. During the proceedings, Nitish Rautel of Birsa Munda and Arun Yadav of Hill Top were cautioned by referee in the 65th and 55th min.
Schedule for Tomorrow's match: 
Meghe First Division
1st match: Nagpur Western v/s IFFC Chankapur 8.30 am on Police Ground.
2nd match: Al-Aziz Sports Club v/s Young Iqbal "B" 9.30 am on Police Ground.
Late Jawahar Lalji Darda 2nd Division
Match: Teka FC v/s ONFC at 3.00pm on Ajni Ground.