CrescendoNasha: Walkathon by Tirpude Students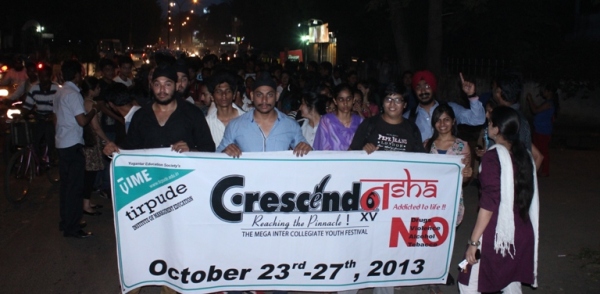 Nagpur News.
The biggest Vidarbha intercollege youth festival is being held from 23rd to 27th October, which is round the corner. 'Crescendo' is a flagship event of Tirpude College, which is conducted every year and the college adopts an innovative theme, to convey a message of social importance, while promoting this mega youth festival. This time, Crescendo is being focused on the biggest enemy on today's youth i.e. "addiction to harmful substances". The students along with faculty members of the College organized a walkathon on 9th October, which started from law college square, moved to traffic park (Dharampeth) and back. The students hooted  various impactful slogans like "tambaku jisne khaya , jaan usne gawaya", "beedi pahuchaye maut ki seedhi", "hum logo ka ek hi nara, nasha mukt ho yuva humara", "jo piyega cigarette, wo karega regret".
About 150 students actively participated in this walkathon and impressed upon the on looking youth and passer byes the vices of various addictions. Some of them got influenced by this and also joined this huge group for some distance. Students were carrying posters and banners depicting a beautiful message: Nasha ho toh aisa: jaise…Nasha zindagi ka, Nasha pyar ka, Nasha insaniyat ka, Nasha dosti ka! The students were very enthusiastic and were supported by Prof. Ragini Singh, Prof. Saran Uppal, Prof.Ankita  Shukla, Prof. Sarang  & Prof. Hajare.