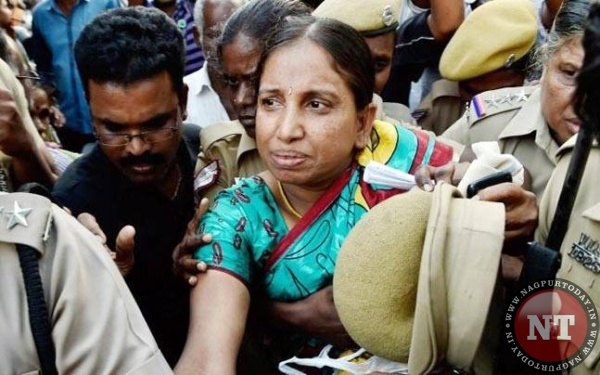 Chennai: The Madras high court on Friday dismissed a plea moved by Rajiv Gandhi assassination life convict Nalini Sriharan seeking premature release.
A division bench of Justices K K Sasidharan and Justice R Subramanian passed the order while noting that the court cannot interfere in the matter since the issue has been already seized of by the Supreme Court.
Nalini, who is presently serving life sentence in the Vellore Central Prison, had challenged the order of a single judge who had granted liberty to the Tamil Nadu government to consider her representation for premature release, subject to the outcome of the petition pending before the Supreme Court.
According to the petitioner, the state government framed a scheme under Article 161 of the Constitution in 1994 to release life convicts who have completed 20 years of imprisonment.
Nalini, who has completed over 25 years in prison, sent a representation on February 22, 2014, to the state for premature release. Since there was no response, she filed a petition on which the single judge directed the state to consider her representation, subject to the outcome of the petition pending before the apex court.
Assailing the order, Nalini moved the appeal contending that there was no bar on the state government to exercise its power under Article 161.
Opposing the appeal, advocate general Vijay Narayan submitted that the present issue was completely covered by the judgment of the Supreme Court in the case of the petitioner herself. The state had decided to release Nalini, but the Centre had challenged it before the Supreme Court on the ground that the state could not decide without getting concurrence from the Centre as the case had been investigated by the CBI, he said.
"The Supreme Court has passed an interim order against the state government and it is still pending. Therefore, the state cannot act now," he said.