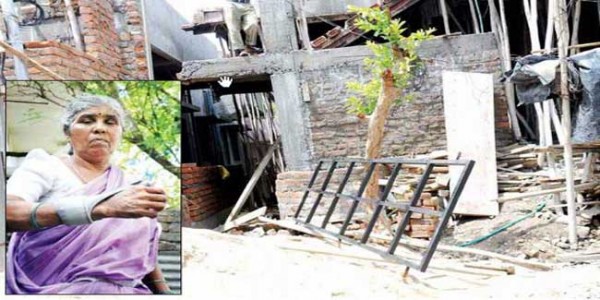 Nagpur News: In a shameful and, shocking, too, development, a Corporator and his family members assaulted a woman police constable and her mother in Nagpur.
According to police, the Corporator, Kishore Gajbhiye, who is supposed to resolve problems of citizens of his ward, himself became a problem. The incident of assault by the Corporator and his family occurred when the woman police constable Sushma Mahendra Shendre's (Chavan) husband was watering the newly constructed slab of their house in Chandramani Nagar. While watering the slab, Sushma's husband by whatever reasons, also dropped water on the walls of Gajbhiye's house.  However, the simple mistake or simple matter triggered anger for the Corporator Kishore Gajbhiye, who as a result, erupted in a heated exchange of words between Mahendra and Kishore Gajbhiye.
The woman police constable Sushma charged that Gajbhiye's daughter suddenly appeared at scene and started abusing her and her husband. Not satisfied with abusing, Gajbhiye's daughter assaulted Sushma. Sensing a great trouble, Sushma's mother Jivankala tried to calm down both the sides. But instead of ending the fracas, Gajbhiye and his family members attacked her and Sushma, too. The assault left both Sushma and her mother injured wherein Sushma had to undergo three stitches. Jivankala, too, was seen with a bandage on her right hand.
However, real drama was staged in the Ajni Police Station. The woman police constable Sushma Shendre charged the Ajni police of discrimination. Sushma said, she and her husband, first approached the Ajni Police Station but the police, instead of filing her complaint against the Corporator first, filed the complaint of Kishore Gajbhiye against her first under political pressure and looking to the Corporator's status. The Ajni police, according to Sushma, filed her complaint full 24 hours after the Gajbhiye's complaint. Sushma alleged that the PSI Patil, without accepting her complaint, asked her to come the next day. Sushma said, the Corporator Kishore Gajbhiye, his family's female members including daughter Priyanka, brother s Rajesh and Sanjay assaulted her and her mother with bricks and an iron rod like thing thus injuring both of them. Sushma said, she was forced to seat in the police station till dead of the night without any reason. Sushma even charged that Gajbhiye frequently threatens her of sacking from the service by his reach to the higher ups. Sushma has named 8 persons in her complaint.
On the other hand, Gajbhiye said that Sushma is baselessly leveling charges on the issue of watering. Sushma has resorted to harassing the labourers working at his house over some petty issues, charged Gajbhiye. The both sides have been clashing since past few weeks over a land issue. Most interestingly, the construction and other related works of Sushma and Gajbhiye are being carried by the same contractor.
Ajni police have booked both the families under relevant sections of IPC and are probing the matter further.