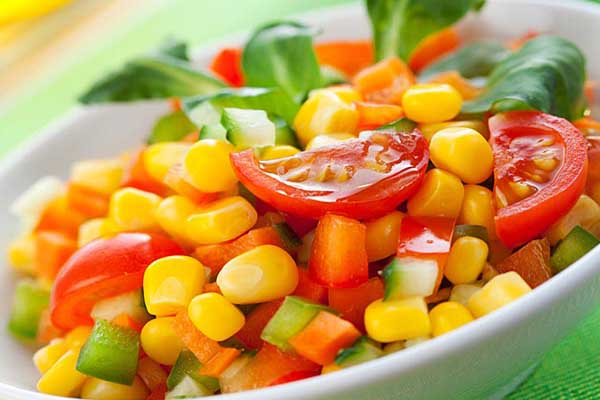 Upma is one of the most popular dishes of Indian breakfast. But I am sure you are all tired of having the same old plain upma by now. Even our most favourite dishes need to go through a bit of innovation to taste good. Corn Paneer Upma is a breakfast recipe that will definetly appeal to you.
You do not have to work too hard to make corn paneer upma in the morning. This breakfast recipe takes more or less the same time as normal upma. You might just need 5 minutes extra to grate the paneer or cottage cheese to prepare this special upma recipe. Corn paneer upma is definitely more filling and nutritious than plain upma. It has proteins from paneer and loads of fibre from the corn. It is, in short, an ideal beginning to your day.
Serves: 4 Preparation
Cooking Time: 20 minutes
Ingredients
Corn kernels- 1/2 cup
Bell pepper- 1/2 (chopped)
Carrot- 1 (chopped)
Green chillies- 2 (chopped)
Onion- 1 (chopped)
Rawa- 1 cup
Paneer- 50 grams (grated)
Mustard seeds- 1tsp
Curry Leaves- 5
Ghee- 1tbsp
Oil- 1tbsp
Tomato- 1 (chopped)
Salt- as per taste
Procedure
1. Boil 2 cups of water in a deep bottomed pan. When it starts bubbling, add the vegetables like carrot, bell pepper, corn kernels and green chillies into the water.
2. Sprinkle salt and allow it to boil for 5 minutes.
3. Meanwhile melt ghee in another pan. Saute the rawa in it for 2 minutes and keep aside.
4. In another deep bottomed pan, heat oil. Season it with mustard seeds and curry leaves.
5. Then add onions to the pan and saute for 2-3 minutes on high flame.
6. Pour the grated paneer into the pan and saute for 2 minutes.
7. Then pour the boiled vegetables along with the water into the pan in which you are frying onion and paneer. Mix well and add the rawa.
8. Keep stirring till the upma cooks; for another 4-5 minutes on low flame.
Garnish corn paneer upma with chopped tomatoes and coriander leaves.