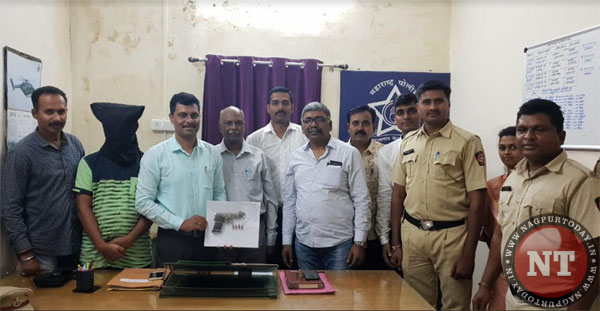 Nagpur: The Crime Branch sleuths, attached to Anti-Narcotic Cell, on Tuesday searched the house of one of the arrested drug-peddlers and seized a country-made pistol and four cartridges from there.
On Sunday, Cops had intercepted two cars and seized 209.744 kg Marijuana collectively valued at Rs 39,67,120. Cops had arrested drug-peddlers Rajendra alias Laddu Kirad (32), a resident of Satnami Nagar; Nitin Krishnaji Mohadikar (35), a resident of Plot No 77, New Sharda Chowk, Bhavani Nagar, Kalamna; Swapnil Suresh Todasam (30), a resident of Plot No 26, Kharbi Sagar, Aaradhana Nagar; Mahendra Keshavrao Wadankar (32), a resident of Plot No 123, Satnami Nagar, Anil Vishnuprasad Vishwakarma (19), a resident of Bhavani Nagar.
An offence under Sections 20 (b)(2)(k), 22, 8(c) and 29 of Narcotic Drugs and Psychotropic Substances (NDPS) Act was registered against them at Kalamna Police Station. All the five accused were remanded to seven-day police custody. Investigators raided the house of accused Rajendra alias Laddu Kirad at Satnami Nagar and seized a pistol and four rounds.
On Monday also, police had arrested Shaikh Sadiq Sheikh Baba (33), Sheikh Arsaan Sheikh Umar (21) and Sheikh Rajik alias Sheikh Golu Sheikh Baba (22), all residents of Amravati; after laying a trap in Nandanvan area. Cops had seized marijuana and three cars collectively worth Rs 32.33 lakh from them.