Cops crack down on fake currency racket; Five arrested, notes worth Rs 4.5 lakh seized

Nagpur News.
The fake currency has once again intruded into Nagpur market as another gang has come to the fore. Gittikhadan police have arrested five people involved in fake currency racket which sourced fake notes from Malda in West Bengal to spread the murky business in Nagpur. Police have registered the case under section 489 (B), 120 (B) of IPC. Cops also seized fake currency notes of Rs 4.50 lakh from their possession. Among the accused included Mohammed Sakir Taimul Sheikh, 19, Sukumar Abhilash Sorkar, 19, Abhiral Islam Saiyadabuddin, 19, Mohammed Samad Hussein, 20 and Mohammed Aziz, 19, all residents of West Bengal.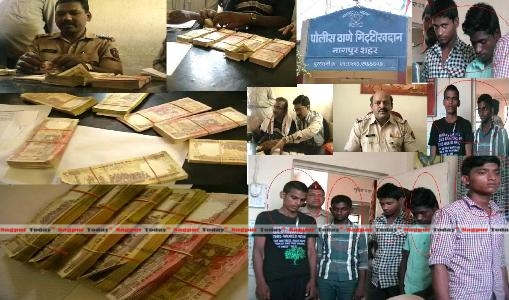 Police sources informed that it got a tip off about a gang trying to deal with the fake currency notes on Katol road opposite Puma restaurant here. The cops swung into action soon after and woman sub-inspector Bhute led the team to the spot. On seeing the policemen on the spot, all the five accused tried to flee but could not succeed. Police have also seized fake currency notes of Rs 4.50 lakh from their possession.
The cops have been reportedly struggling to cope up with the notorious fake currency racket. Last year also police have arrested few accused involved in dealing with fake currency. However the matter then died down as the mastermind could not traced.
Sources said police are trying to get the lead from the accused arrested in the fresh crackdown.