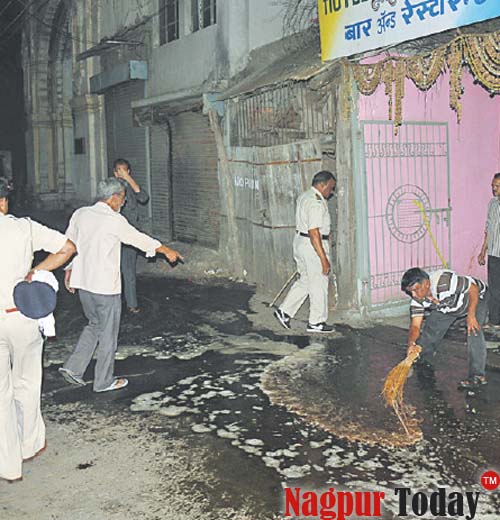 Nagpur News: Kotwali police arrested the two accused of the spine chilling murder of dreaded goon Ranu Gadhave who was stabbed to death in full public view near Ranasan Bar and Restaurant, Mahal on Monday night. Ranu Vinod Gadhave (28), a resident of Ramji Wadi, who was dreaded goon of the area, was murdered in public on Monday night as a result of the tussle between the deceased and the assailants.
The accused are identified as Vishwajeet alias Sonu Veersingh Jadhav (33), a resident of Colonelbagh, and Sitaram Moolchand Shahu (24), a resident of Naik talao, Lalganj, Raut Chowk.
Police said, Ranu Gadhave was a dreaded goon of the area and was involved in some serious crimes. On Monday night at around 9.45 pm, Ranu had a heated argument with Sonu and Sitaram over some old issue in front of Ranason Bar and Restaurant. The argument turned wild and the accused attacked Ranu with sharp-edged weapons. Fear and terror ran through the spine of people when the accused brutally cut Rano's left hand and neck killing him on the spot.
The primary investigations led the police to the suspects Sonu and Sitaram. On the complaint of Vaibhav Gadhave, brother of the deceased, cops arrested the accused on Tuesday morning under Sections 302 and 34 of the IPC.
It is to be noted that Sonu's father was once an active politician and had strong connections in politics. But he retired after a few years.