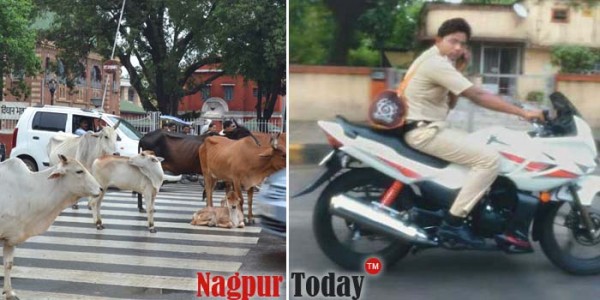 Nagpur News: Watch it next time you zoom across the streets of Nagpur with your ride. You may happen to spot some uninvited guests surrounding your vehicle or probably the scene that the pictures with us are reflecting.
The changed weather has certainly brought a change in the city's traffic scenario at least for now, till the Nagpur Municipal Corporation and traffic department awakens from its fast asleep. The stray cattle menace is on its high, on every traffic signal and prominent roads in the city. However, the traffic police and commuters cannot do much except helplessly watching cows standing in front of their vehicles.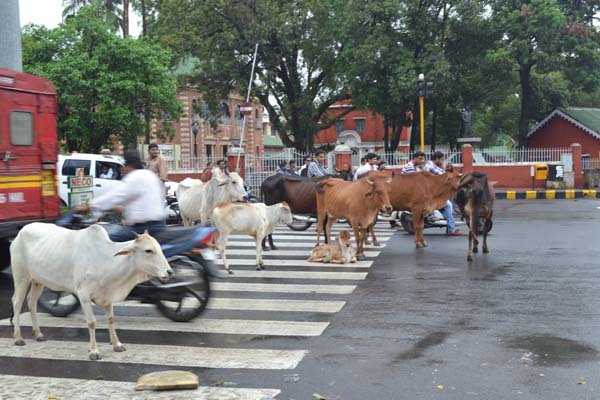 The other day a police man was seen hanging on to his mobile phone while handling his bike with one hand. So lost was he in the conversation he could not even notice the wide open eyes of passersby questioning what will happen if the law maker turns law breaker?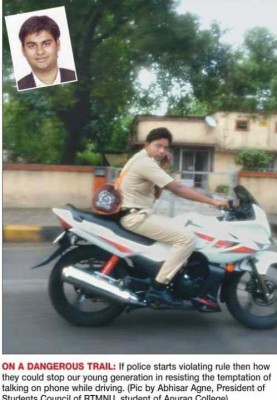 On the hind side, every nook and corner of the city is cluttered with cattle, jamming the traffic flow and filling roads with all the filth.
The traffic department has ignored the problem for the reason that local body should be paying heed towards the menace. In saying so it is ignoring the very fact that the problem may lead serious road accidents too.
Assistant Commissioner of Police, Traffic Department, Nagpur M.S. Gawade told Nagpur Today, "Cattle straying on busy roads is the NMC's issue to look into. We cannot do anything much unless Nagpur Municipal Corporation steps in to clear the menace."
However, NMC Commissioner Shyam Wardhane deemed it as a collective responsibility of the system instead of figuring out any single department for the mess. Wardhane told Nagpur Today, "There is a rule in Traffic Act that if the traffic police find anything obstructing smooth flow of traffic then he has the right to penalize the owner of that particular thing (read domestic animal)."
He said, "In the past our officers had been mishandled by the tabela owners against whom the action was taken for leaving their cattle stray. Our officers are constantly making rounds and even I take round of the city in the evening to check this menace."
Wardhane said, "Such a menace can be cleared with combined responsibility. If any loss is caused to human as a result of cattle blocking roads, then it will be responsibility of the system not any particular department. So the departments should come up with collective efforts in the human interest."